"The Mageseeker: A League of Legends Story" is the name of Riot Forge's newest single-player adventure set in the world of Runeterra. It's releasing on April 18, 2023 and we'll take a look at everything you need to know about the League of Legends spin-off.
The wait is finally over! The Mageseeker: A League of Legends Story is set to release on April 18, 2023 and we'll finally learn more about Sylas, Demacia and the revolution that played a huge part in its history.
In case you're interested in the game, we've got you covered. We'll tell you everything about technical aspects, the game's genre and of course a little story outlook. Let's dive right into the newest League of Legends adventure!
The Mageseeker Gameplay: What Kind Of Game Is It?

According to the game's publisher, Riot Forge, The Mageseeker will be a single player action RPG. So even if you're not that big on MOBAs like League of Legends, this might be something for you. Instead of scrapping in Summoner's Rift, you'll be exploring the vast world of Runeterra.
If you're big on League of Legends lore, definitely check out the Ruination novel to learn more about the origin of Viego!
While Ruined King: A League of Legends Story is a turn-based RPG, The Mageseeker will be a lot more dynamic. Gameplay-wise it's best compared to earlier The Legend of Zelda games or Hades, as you will be exploring linear levels all around the Kingdom of Demacia while fending off countless enemies that prey on Sylas.
Even in terms of design, it reminds us a bit of the Zelda games. You'll control Sylas from the top-down perspective, and his adventure is brought to life in a colorful pixel style.
The Mageseeker: Story Overview

The story behind The Mageseeker might already familiar to those of you that enjoy diving into the vast lore that is surrounding League of Legends. It's revolving all around Sylas, who is also know as The Unshackled.
Sylas hails from Demacia, a Runeterran kingdom that rejects everything that has to do with magic and magical abilities. He is one of the few Demacians that is able to sense magic, which is why he was recruited to be a Mageseeker.
The Mageseekers are a powerful Demacian organization that track down magic users inside the kingdom and do everything in their power to control everything magical inside Demacia. Sylas was prosecuted by the Mageseekers after he caused a tragic incident, which led to him being imprisoned for years.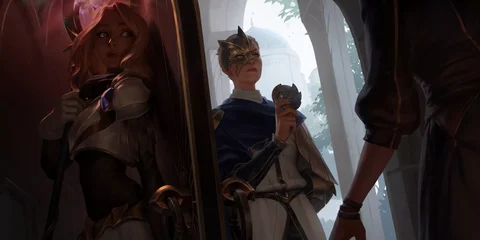 The Mageseeker: A League of Legends Story will revolve around the time after Sylas managed to escape his capitivity, joining a revolution against the very kingdom he once served.
The Mageseeker: Platform Availability And Price
Other than League of Legends, you'll have almost free choice of platform when it comes to enjoying this game. The Mageseeker: A League of Legends Story will be available on the following platforms:
PC

Steam
Epic Games Store
gog.com

Nintendo Switch
PlayStation 5
PlayStation 4
XBOX Series X / S
XBOX One
If you want to get cozy while experience the captivating story of Sylas and his revolution, no problem! Get the game on any available console, last-gen or current-gen, or keep your League of Legends experience on the desktop – your choice alone.
Thankfully, you won't have to pay the full price of a triple-A-game to enjoy this game. The Mageseeker will cost you $29.99 if you go for the Standard Edition or $39.99 if you want to get some extra in-game-goodies with the Deluxe Edition. Check out our comparison between the editions if you're not sure yet:
Riot even offers a full-on Collector's Edition if you're big on some Mageseeker memorabilia. It'll cost you $169.99 and it's available in the Riot Games merch store. So, what are you waiting for? Dive right in and join Sylas on his path to revolution!
This article contains affiliate links which are marked with [shopping symbol]. These links can provide a small commission for us under certain conditions. This never affects the products price for you.