Tower of Fantasy is going international after a successful launch in China.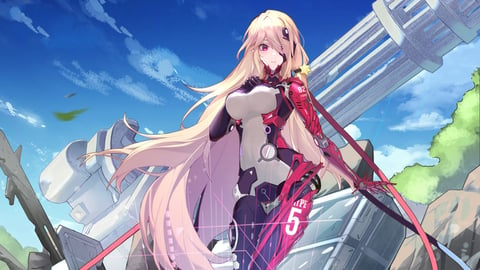 Genshin Impact became a smash hit in late 2020 and early 2021. The game has managed to take over the mobile market, raking in revenue one can only dream of through mobile sales alone.
Due to the success of the game, there have been quite a few look-alike games that have popped up left and right, some are literal copy-and-paste versions of the game, while others innovate and build upon Genshin to make something similar, yet different entirely.
One of those games is Tower of Fantasy, which blends elements of Genshin into an open-world RPG of the future.
Is Tower of Fantasy Copying Genshin Impact?
Tower of Fantasy was released December 16, 2021 in China. That is over a year after Genshin Impact was brought to the public. Of course, games take much longer than a year to develop, so the similarities could just be coincidence.
The game is open world and look absolutely stunning with its scenery, which is what any Genshin player can appreciate. The world itself is set in the future, which is different, but due to a disaster, much of the technology has been destroyed it seems, which means we will explore open worlds as well.
Overall, this game looks like a mix of Honkai Impact and Genshin Impact, but are we really mad? No, not at all.

What is Different from Genshin Impact?
The setting seems to be quite different in Tower of Fantasy. While Genshin is about twins coming to a whole new world which resembles the Middle Ages, Tower of Fantasy is set in the future of a thriving society, which was wiped out by an accident.
Also, Tower of Fantasy will have guns as weapons unlike Genshin Impact, where players can only wield swords, claymores, bows, pole arms and catalysts. The latter being magical devices which work in tandem with a characters' element.
That is another difference. Genshin Impact has a focus on the different elements which characters can wield, but it seems like these types of aspects do not fit into Tower of Fantasy.
Is Tower of Fantasy A Gacha Game?
The game will have a gacha system in place for players to pull skins and weapons. There are multiple different currencies that players will be able to use. There are different weapon banners and gadget banners in Tower of Fantasy, where players can obtain new items for their game.
When is Tower of Fantasy Releasing?
You can sign up for the beta on the official Tower of Fantasy website right now. The beta should start in April and the international release date of the game is set to be later on in 2022. The game is already live in China, but you need a Chinese Resident ID to play the game on their servers.
The game is going to be available on PC, as well as on mobile. If you like Genshin Impact and Honkai Impact, then this is definitely a game you should check out.