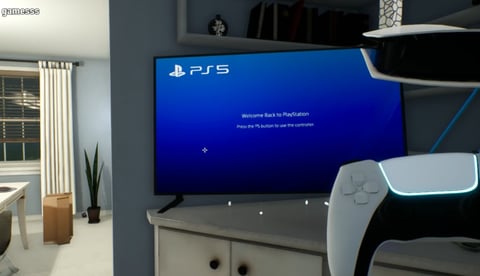 Europeans will have to be patient until November 19 when the PlayStation 5 will finally be available. If you are not among the lucky ones who could secure a next-gen console for the launch, you can now at least virtually enjoy a PS5 Unboxing - thanks to the PS5 Simulator.
When the PlayStation 5 is finally released here on Thursday, more than a few console gamers will celebrate the unboxing and the first installation of the next-gen console. Haaaach, that wonderful smell when opening the package. The feeling when the new hardware slowly peels out of its shell.
Oh, we digress. Getting a PS5 for launch is not that easy: All those who couldn't get hold of a console anymore can now enjoy the (dubious) pleasure at least in the PS5 simulator.
PlayStation 5 Unboxing in PS5 Simulator
So what do you do if you want to own a PlayStation 5, but Fortuna has not been kind to you? It's easy: just unpack the console virtually. Logical, right? That's what you've always done *cough*.
Anyway. For all the less fortunate PlayStation fans, Alex Grade has created the PS5 Simulator for the PC, which allows you to at least hold the console in your virtual hands. Oh, what a beauty!
With this "game" you can experience the purchase and setup of PlayStation 5 as if you were there! From opening the box to managing cables, to connecting and setting up, you can realistically recreate the real feeling. Simply ingenious. Features include ultra-realistic graphics (no RTX at all), physics almost everywhere, and miserable cable management (just like in real life). So, if that doesn't sound appealing, we don't know.
The download of the PS5 simulator is also only 947 MB in size and therefore does not cause any problems for your PC. And now excuse us: We have to set up our virtual PS5.
Read more exciting PS5 content and everything about gaming and esports on EarlyGame. We'll tell you which PS5 version you should buy and how to get the PS Plus Collection on your PS4.
Original article by EarlyGame's Philipp Briel.