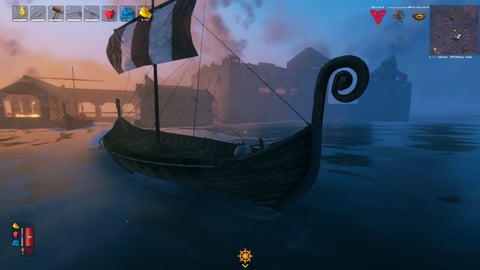 Valheim has reached a record-breaking 3 million copies sold on Steam and is this season's smash hit game. The Viking survival game was developed by Iron Gate Studios AB with a team of only five developers.
In a recent interview, the devs behind Valheim showed surprise and bewilderment at how well the game sold. Törnqvist Henrik the co-founder said the following:

We had a feeling that it would sell pretty well, at least to sustain us, you know. But it being a million seller, and now two million seller, is something we could never have guessed.
The devs at Iron Gate AB plan to personally thank Odin and also plan to make many sacrifices to the god in the next moon phase! Well, actually, they just tweeted that they are super thankful to have the support of the gaming community.

There are no words for how this feels, thank you so much everyone! #Valheim #Vikings #Survival https://t.co/b9HPESmHku

— Valheim (@Valheimgame) February 19, 2021
The devs are blown away by the success and Sebastian Eriksson of Coffee Stain Studios continued with the humbled acceptance of their top-selling game.
It's quite incredible, and very humbling also, I might add. I can echo that from Coffee Stain's perspective. We were also fairly optimistic, or I would say very optimistic, in terms of how the game would perform. But this is above and beyond all of our wildest imaginations. It's even to a point where we internally discussed that if someone had suggested we would sell two million copies within two weeks, we would have just laughed at that person and said, yeah, okay, you're apparently just trolling. But yeah, here we are. So, as Henrik said, pretty humbling, and quite overwhelming, also.
This just goes to show that games, at the end of the day, should be fun & simple, not just appealing to the widest range of audiences as possible. Too many games in recent memory hand-hold and coddle players with shiny micro-transactions and endless skin options. Too often does gameplay seem secondary to selling players in-game items. We play games to escape from the boring lives we all live, and role-playing as a Viking who has to survive off the land is exactly what 2021 needed. Valheim hits that perfect balance between old school-RPG and survival game.
The Valheim subreddit is popping off with all kinds of crazy player-made buildings even from the rather limited building options Valheim currently has to offer.
Eikison continued to show his appreciation for Valheim fans.
And I really want to thank all of the people who are posting such amazing, like... everything from really impressive structures that they've built, be it huge castles or just super-interesting interpretations of trolls. But also the tons and tons of tree deaths. And, like, videos of that happening. It's so much fun.
The sky is the limit with Valheim as more furniture, more tools, and more biomes are planned for the game's future. Currently, there are only 5 biomes: Meadows, Black Forest, Swamp, Mountains, and Plains. In-game, you can see some undeveloped biomes that are planned for release in the months to come.
Remember, when playing Valheim, never leave camp without a full belly of mead and meats!
Did you know Odin is a member of MyEarlyGame already? So sign up to MyEarlyGame and enjoy a customized, ad-free experience as well as raffles with cool prizes!