Since WoW Dragonflight released, lots of players have enjoyed exploring the world from way above the mountains on the back of their beloved dragons. The upcoming Patch 10.1 grants us a completely new trait, that will make dragon riding even more exciting, and could be a huge quality of life change.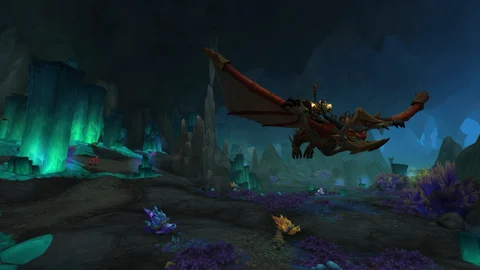 In WoW Dragonflight, dragon riding is one of the most fun ways to explore new regions. Fly between the clouds in high speed and feel the wind in your hair, high above the top of the biggest mountains. Unfortunately, there are no quests for you to complete up there and especially with the new underground zone coming in patch 10.1, your dragon will need to fly very low in the near future.
If you want to get a feel for the upcoming patch "Embers of Neltharion", you should check out the official trailer first!
WoW Dragonflight Patch 10.1: New Dragon Riding Talent Ground Skimming Will
Luckily, Blizzard has our backs on this one in the upcoming patch! The new dragon riding talent "Ground Skimming" regenerates 1 Vigor every 30 seconds when flying really close to the ground, even at slow speed. This extremely useful trait costs four dragon glyphs and does not occur while being affected by Thrill of the Skies, which is another talent that restores Vigor when flying at really high speed. You will find it in the fifth talent row.
The Associate Game Director for Dragonflight, Morgan Day, seemed really excited about this new feature while explaining it during a recent interview with EarlyGame:
It really hits that fantasy that you've seen in so many different […] media, where there is a dragon that flies on the ground and there is wind flying up and just really feels surreal, it really doubles down on that awesome sense of dragon riding.
Ever wanted to know what your WoW recipe tastes like in real life? You can find out now with the World of Warcraft: New Flavors of Azeroth cooking book!
This is a huge quality of life update for dragon riding, since it will now allow you to fly endlessly between the cliffs and edges the new region has to offer. That makes exploring so much more comfortable and way less stressful or frustrating.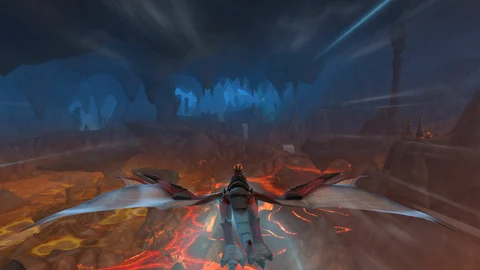 In addition to said new talent, there will be a corresponding upgrade in the sixth talent row available as well. "Land's Blessing" has the same effect as ground skimming, but regenerates 1 vigor every 20 seconds instead of every 30 seconds.
Other Dragon Related Changes
Ground Skimming won't be the only dragon related news for the upcoming patch. We can probably also look forward to a completely new dragon. Unfortunately, there is no real information on its looks right now, but it will for sure not disappoint us!
Besides ground skimming, other new talents will be added during the patch. New glyphs will be available for players to collect in the region as well.
Dragon riding in general seems to be a well-liked feature. This is why there will be a lot more of it in the main quest line in future updates.
The only bad news however is, that we still have to leave behind our dragons when entering the new raid Aberrus, the Shadowed Crucible. A lot of players hoped for a cool dragon related flying feature in the upcoming raid. Unfortunately, that is not the case. There seem to be too many issues and "considering you can't mount in combat", dragon riding is not planned for any raid in the near future, as Day explained it in our conversation.
Explore the new features of Dragonflight patch 10.1 today and prepare for a good raid night when Aberrus, the Shadowed Crucible arrives in just a week from now on!
Until then, you can check out our video regarding the classes in one of Blizzard's other giants: Diablo 4, which is soon to release as well!
This article contains affiliate links which are marked with [shopping symbol]. These links can provide a small commission for us under certain conditions. This never affects the products price for you.