Among a lot of other familiar characters, Epona is in Zelda Tears of the Kingdom as well – but you have to put in some extra effort to unlock Link's iconic horse. Here's how to get Epona in Zelda: Tears of the Kingdom.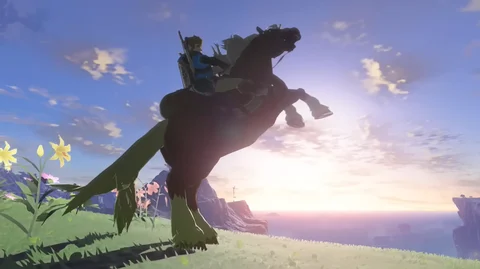 The iconic vollain Ganondorf is back in Zelda: Tears of the Kingdom, but he's not the only character from the franchise to return. You are also able to ride on Link's iconic horse: Epona.

Since Link learned Epona's Song, many years ago in Ocarina of Time, the mare has been a recurring character in The Legend of Zelda series. Now, with Zelda: Tears of the Kingdom arriving, it's no wonder fans are asking how to get Epona.
How To Get Epona In Zelda: Tears of the Kingdom
One way to get Epona in Tears of the Kingdom is through having a copy of Breath of the Wild for the Switch.

Transfer Your BotW Horses To Get Epona To TotK

In Zelda: Breath of the Wild, it is necessary to get a Link Amiibo to implement Epona into the game. Afterward you can simply use it and Epona is yours to use for riding around Hyrule.

The good thing is, that you can transfer your horses from BotW to Zelda TotK. To bring your Epona to the new game, you need to go to New Serenne Stable and talk to the owner. If you have a save file for the previous game on your Switch, he will recognize you as a good customer and let you "borrow" a horse. Now you can find Epona and any other horse from your playthrough of BotW available. Even though you now have Epona, she will not pull any carts or objects for you like other horses.
Scan An Amiibo in TotK To Unlock Epona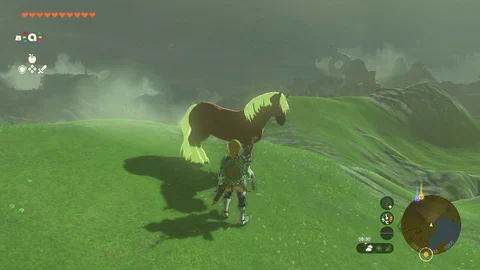 The other option is that you use an Amiibo directly in Tears of the Kingdom to get Epona – but you have to be a little bit lucky here as well.

You have to get your hands on the Super Smash Bros. Link Amiibo or on the Twilight Princess Link Amiibo first. Extra tip: You can use one Amiibo figure on several Switch consoles, so ask your friends whether they have one of the two Amiibos already and whether you can borrow it from them!
Once you have it, you can select the Amiibo ability in Zelda: Tears of the Kingdom
Put the figure on your right Switch Joystick - the connection will be established via NFC
After a few seconds, a chest should appear in the game right in front of you
With a little bit of luck, Epona will be in it
Be aware that you can use an Amiibo only once a day on your Switch. But if you've been unlucky and Epona wasn't part of the loot, you can use this trick:
Save your game
Repeat the steps from above
If you don't get Epona, quickly load your savegame data
Repeat the steps from above
Do so until Epona is in the chest!
If you're extremely inpatient, or just want to get all of the things you can unlock with your amiibo, then we have another trick for you:
Use the amiibo in-game, as described above
Save after getting an item and close the
Go to the system settings on your Switch
Change the date
Go back to the game to get another item from your amiibo
Zelda: Tears of the Kingdom – All Stable Locations
Refresh your memory on what happened in Breath of the Wild before diving into Tears of the Kindgom:
This article contains affiliate links which are marked with [shopping symbol]. These links can provide a small commission for us under certain conditions. This never affects the products price for you.