It's time to get out your inner 2010's high school kid, because these Valentine's Day skins will remind us of Mean Girls, Cinderella Story and Avril Lavigne. Let's go over these new Heartache and Heartthrob LoL skins!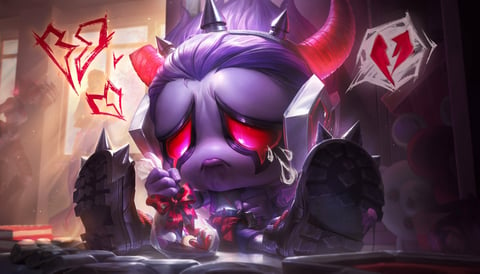 Vi and Caitlyn are getting the high school romance that fanfiction writers have been wanting ever since the release of Arcane back in 2021. With Valentine's Day fast approaching, not even a cyberattack can keep Riot's skin team at bay.
So, as is usual, the previews for the newest skins have been released and we're going back to high school this February 14, 2023 with three champions getting high school rom-com skins.
Which LoL Champions Will Get Heartache & Heartthrob Skins?
Three champions will be getting these new Valentines Day skins. The Crystal and Withered Rose concept wasn't chosen for this year, instead we're going to be getting cute high school themed skins for three champions.
In the backing animation for Vi, she pries open a school locker and puts in a heart shaped paper. Caitlyn, in her backing animation, opens her locker to find the exact heart shaped paper, confirming their romance and love, which is a cute touch.
Amumu is giving us the 2010's emo vibes, which could be a play on the Emumu skin which wasn't reworked in 2022 when Riot re-made the Gothic skins. Overall, the skins are cute and fun, but nothing groundbreaking or new.
Faker isn't a fan of solo queue right now, do you agree?
How Much Will The Heartache & Heartthrob Skins Cost?
These skins are all going to be 1350 RP. None of these skins are legendaries, meaning they're all on the same tier, making them Epic Skins. Most League skins these days, upon release, go for 1350 RP with only legendary skins or Ultimate skins costing more.
When Will The Heartache & Heartthrob Skins Be Released?
These skins should be released in LoL Patch 13.3. With the current situation it's still unsure though how Riot will handle the release of skins, since the Lunar God skins from LoL Patch 13.2 will also likely release in Patch 13.3.
We can expect them on February 9, 2023, a day after LoL Patch 13.3 drops though if everything goes according to plan and how Riot had planned it. Hopefully players will be able to test the skins out on the PBE server ahead of time to give their feedback.
This article contains affiliate links which are marked with [shopping symbol]. These links can provide a small commission for us under certain conditions. This never affects the products price for you.