Ahri has been promised her LoL ASU for a while now. With it hitting the PBE server we now have more information and we even know a release date.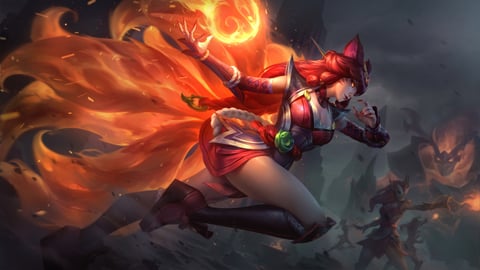 In 2022 Ahri received a mid-scope update which finally put her back on the map on Summoner's Rift. After a successful ASU for Caitlyn, Ahri was also announced to be the second champion to receive one and then the waiting game began... well, it's finally paid off!
Ahri's ASU, though delayed, will finally hit the rift. Riot has finally released the new splash arts, as well as the new in-game model for her. She will be marching onto Summoner's Rift quite soon so get hyped.
Ahri's LoL ASU Delayed Due to Cyberattacks

Ahri's long awaited ASU was here, we had it in our hands, but it slipped through our fingers, all because of a cyberattack, which managed to break the PBE build, as well as have source code for League of Legends, as well as Teamfight Tactics and Legends of Runeterra stolen.
Due to this attack, much of the content which was supposed to be released in LoL Patch 13.2, like the Ahri ASU have been pushed back. This means players will have to wait another two-weeks for LoL Patch 13.3 for the Ahri ASU to hit live servers.
This means that the Ahri ASU will be released alongside the Aurelion Sol CGU which is also set for LoL Patch 13.3. Riot have said they've identified the issues and know what information had been stolen by the cyberattack, and that they're working on fixing all the issues so that Patch releases won't be impacted too much.
The changes that can be hotfixed should go live on January 26, 2023, but things like the Ahri ASU, unfortunately, will have to wait until the next LoL Patch.
Did Riot Make Changes to Ahri's Kit in her ASU?

Ahri's kit is going to stay mostly the same. Riot will have fixed some of the code, which could fix up a few niche ability interactions that only OTP's knew about, but overall, this ASU was done to make Ahri a more sustainable champion for the future.
An ASU does not update a champion's abilities, rather their art, in-game models and all the skins. It has also been said that Riot will prioritize popular champions with a lot of skins to receive ASU's in the future. So don't expect any big ability changes, just a few quality of life ones to her kit.
Which Splash Arts did Riot Update?
Riot updeated every single Ahri splash art, though some just got slight tweaks, like K/DA Ahri or Coven Ahri. Her older skin splash arts did get major overhauls like Fox Fire Ahri and Midnight Ahri.
This article contains affiliate links which are marked with [shopping symbol]. These links can provide a small commission for us under certain conditions. This never affects the products price for you.