Ahri is one of the most popular champions in League of Legends and her ASU has been anticipated by just about anyone. Finally, we've got some proof that it really is releasing sooner than we might think.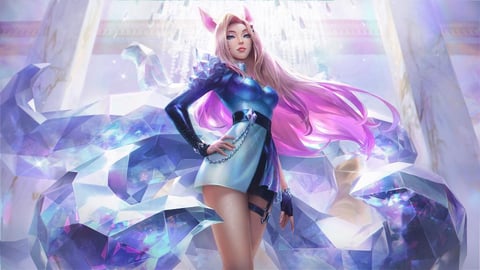 Ahri is one of the most popular champions in League of Legends. She has a high play rate and ever since her mid-scope update early in 2022 she has also been one of the best mid laners.
But she is also one of the oldest champions in the game, having been released all the way back in 2011, which means her in-game model isn't the most fresh and new. Therefore, it was announced in 2022 that she would be getting an art and sustainability update.
LoL PBE Files Reveal New Ahri ASU Info
SkinSpotlights, a known data miner, has found some interesting files in the recent PBE patch. Ahri's ASU was said to come early in 2023 and now, with these files, it seems that the release date is practically confirmed already for the champion.
An ASU doesn't update a champion's abilities, not like a mid-scope update and definitely nothing like a visual and gameplay update, instead a champions' art will be updated, as well as some of the champions code to give them more sustainability and longevity in the game.
Ahri will be the second champion to receive an ASU, with Caitlyn having gotten an ASU, with updated splash arts and everything as well as some major bug-fixes, in late 2021 coinciding with the release of Arcane.
Ahri's ASU was pushed back into early 2023, taking almost an entire year, which has some fans worried for new ASU champions. But now, with the data mined information from Skin Spotlights players can breathe easy, because in the recent PBE files were some music files which will be Ahri's ASU theme in the LoL-client.
This means that we aren't far off from her release. The music for the upcoming Aurelion Sol CGU, as well as the coming Lunar New Year event were also found.
This can point towards both Ahri and ASol releasing in the same patch. While the two aren't on the PBE yet for testing, we think that they're going to hit the PBE on January 9, 2023 and then release with LoL Patch 13.2 on January 24, 203.
Of course, these dates are not confirmed, but with this information coming from the PBE patch, it is likely that Riot will add the rest when the next PBE cycle goes live in a week's time. Who else is ready to test out the Aurelion Sol CGU and finally see all of the Ahri ASU?
This article contains affiliate links which are marked with [shopping symbol]. These links can provide a small commission for us under certain conditions. This never affects the products price for you.