T1 Keria is our Player of the Month. Throughout the 2021 World Championship, he's shown insane outplays and showcased his skill.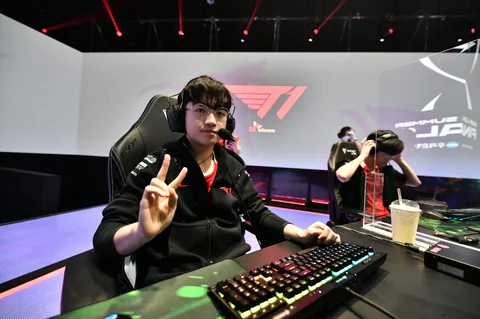 The 2021 World Championship is underway, the quarterfinals concluded, and we're about to head into the semifinals, with only four teams remaining out of 22. One player has stood out amongst this high-class group of League of Legends players, and this player is our Player of the Month: T1 Keria!
There were multiple choices for Player of the Month, so many players stepping up and showing insane performances, but T1 Keria has been one of the most influential players on his team and his smart roams have helped secure T1 a spot in the quarterfinals.
More Player of the Months:
Who is T1 Keria?
Keria started off on the academy team for DragonX in 2019 before making the jump to the main roster in the support position. He showed off his young talent, making it to the 2020 World Championship with DRX alongside Deft and Chovy, only to be eliminated by the eventual World Champions DAMWON Gaming.
In 2021, he made the move to T1, where he became the starting support player. He has been one of the most consistent players throughout the year, and his solid play has helped T1 secure a spot as the third LCK seed at this year's World Championship.
Player of the Month Stats
T1 was placed in Group B alongside EDG, DFM and 100T. Even though T1 did have a stumble in the group stage – their first game against EDG – the team bounced back thanks to Keria and Canna in the top lane. Keria has shown versatility throughout the tournament, playing Yuumi, Thresh and Lulu, and his playmaking has helped T1 secure a semifinal berth.
Game Balance: 8W - 1L
Win Rate: 88.9%
KDA: 18.4
CS per Minute: 0.8
Kill Participation: 81.6%
Most Played Champions
Lulu (3 Games, 100% Win Rate)
Thresh (3 Games, 100% Win Rate)

Yuumi (1 Game, 100% Win Rate)

Why the Player of the Month Award for T1 Keria?
As mentioned, T1 would not have played the way they did if it weren't for Keria. He is a young player with great mechanics, but after Faker, the player with the most experience. He's one of the best support players we've seen in a long time, and the variance in his champion pool makes him quite threatening.
He isn't afraid to leave his ADC on an island to go roam, making aggressive plays when needed. He has been an integral part of T1's success throughout the tournament, and that is why he has been crowned the Player of the Month of October.