Let's take a look at LoL Patch 12.02 and the skins we will be receiving!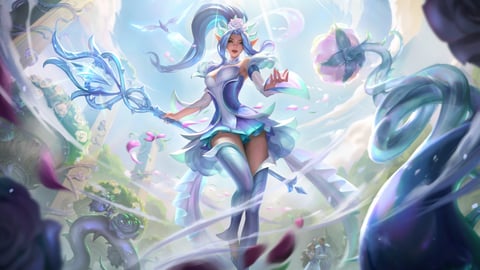 New Crystal Rose skins were just added to Wild Rift and the celebration continues in League of Legends as well, with two more skins being added, as well as a Withered Rose skin.
The first Crystal and Withered Rose skins were released back in 2021 and Riot is continuing the trend in 2022 with more wedding skins! Who is going to get married this time around?
Which Champions Will Get Crystal and Withered Rose Skins?
As mentioned, a total of four champions will be getting Crystal and Withered Rose skins.
Elise and Zeri are receiving Withered Rose skins, while Akshan and Janna will be donning the white and turquoise of the Crystal Rose skins.
How Much Will the Crystal and Withered Rose Skins Cost?
All four skins are going to be 1350 RP skins upon release. So, if you want to attend any League of Legends wedding, then you better get your hands on one of these three skins.
Though, if we're being honest, Elise looks more like the one ready to break the happy wedding couple apart in her Withered Rose skin, but somehow, it fits her perfectly.
When Will the Crystal and Withered Rose Skins be Released?
The skins have gone on PBE on January 5, 2022 which means that they will go live in LoL Patch 12.02 on Thursday, January 20, 2022 – at least according to the official League of Legends patch schedule, that's when the skins should be hitting the rift. Though, you do have to remember that skins usually come out a day or two after the patch drops.
Which Champions Already Have Crystal and Withered Rose Skins?
In League of Legends, there are four champions who already have skins in this skin line, but with the expansion into the mobile sector with Wild Rift, there are also a few Wild Rift exclusive skins that have recently been released in Wild Rift.
Crystal and Withered Rose Skins in League of Legends
These are the four champions that already have Crystal and Withered Rose skins:
Crystal Rose Zyra
Crystal Rose Swain
Withered Rose Syndra
Withered Rose Talon
Crystal Rose Skins in Wild Rift
These are the champions that received Crystal Rose skins as Wild Rift exclusives:
Crystal Rose Lux
Crystal Rose Ezreal
Crystal Rose Sona
Crystal Rose Jarvan IV
It seems like Riot is going to continue making these skins in the near future. Maybe one-day, Cho'Gath can have one as well? We've got gentleman Cho, so getting him hitched should be easy. Hell, maybe the upcoming Void jungler will be his boo?