Grimes has won EarlyGame's Player of the Month for January 2022, but she's not even a gaming influencer. Why? Well, there are a few reasons...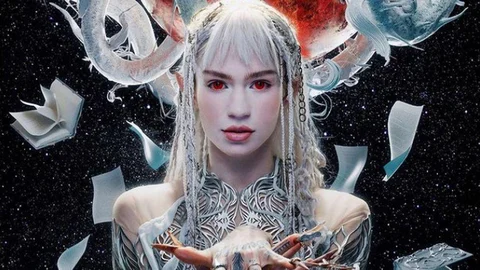 This month we are not talking about RLCS 2021-22, we're not talking about an esports pro, we're not even talking (really) about a player. Instead, we are talking about a musician who has added a whole lot to Rocket League this month, and is the featured artists in the ongoing Neon Nights Event. From the absolutely incredible Heatseeker Ricochet LTM, to the fantastic selection of Challenges available, nothing is more of a joy than the Player Anthems that Grimes herself has given to Rocket League for this event.
Our previous EarlyGame Rocket League Players of the Month...
Who is Grimes?
Claire Elise Boucher, otherwise known as Grimes, is a 33-year-old synth-pop and EDM artist who was featured in Rocket League this month. Her music is highly popular, as it combines elements of dream-pop, electronic music, R&B and hip hop. Over the five studio albums she has released thus-far, she has incorporated all sorts of themes and topics into her music, and is clearly a huge lover of fantasy and science fiction. Seriously, just check out her new music video for "Player of Games", the main song that has been featured in Rocket League's Neon Nights Event. Here it is!
"Player of Games" is the first single to come out of her upcoming album, "Book 1". The inclusion of this track in Rocket League is clearly a marketing strategy for this new album, but that's not a criticism because it's a fantastic piece of music, and it's free via the Neon Nights Challenges. In addition, "Shinigami Eyes" is also unlockable as a Player Anthem, and is an absolute banger as well. Honestly, there's not a whole lot to say, her music is great – especially if you are an EDM fan – and adds a lot to the event. It's just so much fun!
Another fun-fact is that Grimes was also the partner of tech-billionaire Elon Musk for a number of years before they separated in September 2021. So there you have it! Even Elon Musk now has a... somewhat dubious... connection to Rocket League! Isn't that cool? They even had a kid together! Maybe the kid will be a Rocket League fan, who knows... Enough fun, though, despite our disappointment over the fact that we didn't get a Lucky Lanterns Event this year, Neon Nights has proven itself a worthy (if not un-Chinese-New-Year-related) replacement, and we give a lot of the credit for that to Grimes herself!
Rocket League Player of the Month, January 2022: Grimes
Grimes is EarlyGame's Rocket League Player of the Month for January 2022 due to the unbelievable music that she has featured in the Neon Nights Event. Her tracks pre-date a new album that is sure to rock our bloody butts off, and make the basic act of playing Rocket League a whole lot more of a joy! Thus, if you haven't already checked out her YouTube and Twitter channels before, you definitely should! Congratulations, Grimes. You deserve it!