Racing fans take note: Rocket League will soon release the next Lamborghini bundle! The Lamborghini Countach is coming to the game.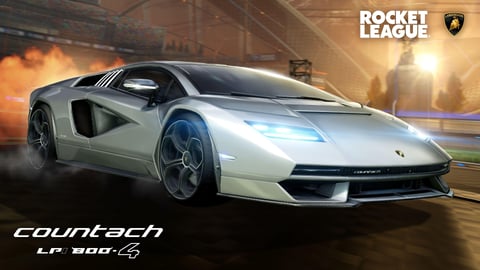 Rocket League and fast cars... they logically belong together like... Rocket League and all kinds of amazing items and paint jobs! In the past 6 seasons, we've seen quite a few real-life speedsters make their way into the Battle Arena. We like to think back to the BMW M240i, which was introduced in Rocket League during Season 5.
Another regular partner of Psyonix is Lamborghini. Some time ago, the Lamborghini Huracán first came into the game, and now the Countach follows its footsteps. We'll tell you what's included in the new bundle, when it will be released in the Rocket League Item Shop, and how empty your wallet is going to be if you decide to buy it.

Rocket League Introduces Lamborghini Countach Bundle
The already huge selection of Battle Cars in Rocket League just keeps growing bigger and bigger. At the start of Season 6, we got the Nomad – be sure to check out which hitbox the new body uses. So now another sports car from Lamborghini makes its debut... and we're here to talk about it.
Why is the new body released now of all times? It's not a randomly chosen date by Psyonix, no... in fact, the Countach is celebrating its 50th birthday! Happy birthday, old car! To mark the occasion, the super sports car has been modernized and will soon appear in Rocket League! Win-win for everyone involved, right? Here's the video to really get you hyped up:

Well, it's great that you're definitely hyped now, because there is also the RLCS Winter Major! By the way, Lamborghini is the official sponsor of this multi-day event in sunny Los Angeles... oh yeah, Rocket League and Lamborghini, a better love story than Twilight. The Winter Major will take place from March 23 to 27, and we've already covered which teams are competing in a separate article.
How Much Does The Lamborghini Countach Bundle Cost?
The Lamborghini Countach LPI 800-4 Bundle costs – as soon as it gets released – 1,100 RL Credits. Comparing this to the Huracán Bundle some time ago, which cost 2,000 RL Credits instead, you won't have to dig quite as deep into your wallet here. To be honest, 1,100 credits (about $10) is pretty much the standard price for bundles in the Rocket League item shop. But of course, what's more important is what you get for your money...

What's In The Lamborghini Countach LPI 800-4 Bundle?
Of course, the Lamborghini Countach LPI 800-4 Bundle, comes with a selection of a few different items: You get the brand-new body, an engine sound, two different wheels and a few other items to spice up your battle car. Here you have a small summary:

| | |
| --- | --- |
| Item Name | Item Typ |
| Lamborghini Countach LPI 800-4 | Body |
| Lamborghini Countach LPI 800-4 | Engine Audio |
| Lamborghini Countach LPI 800-4 | Player Banner |
| Lamborghini Countach LPI 800-4 | Wheels |
| Lamborghini Countach 70s | Wheels |
| Argento Luna | Decal |
What Is The Lamborghini Countach's Hitbox?
The Lamborghini Countach comes with a Dominus hitbox – just like the Lamborghini Huracán. Not sure what a Dominus hitbox even is? Don't worry, we've written a detailed guide about it. But let's say this much right here: It feels really solid, is easy to control, and is ideal for defensive gameplay. If this applies to you, then you'll have a perfect match with the Dominus Hitbox!

Lamborghini Countach Bundle – Release Date
If you're ready to ride right now, though, you'll have to wait a few more days. The Lamborghini Countach LPI 800-4 Bundle will be available in Rocket League for one week starting on March 30. You won't have much time to think about it, as the bundle will expire as early as April 5th. But as you should know, the partnership between Rocket League and Lamborghini will most likely continue for a long time, so the bundle will probably be coming back to the Rocket League Item Shop in the future...