Psyonix has announced a new bundle for Rocket League: three already-familiar NASCAR bodies are returning as Next-Gen!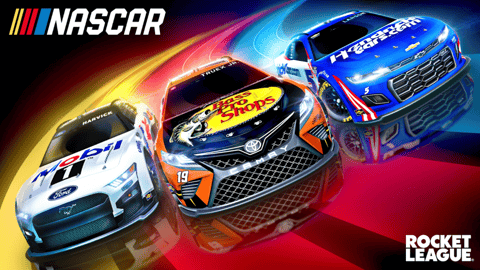 Motorsports have become more fashionable again in recent years (at least to my sensibilities). Formula 1 has climbed out of its hole and is becoming increasingly popular, while NASCAR has always had a welded-on fanbase. Psyonix loves bringing fast super sports cars to Rocket League and... it just makes sense, too.

Equipped with the right hitbox, these bodies can be offered in the Rocket League item shop without any problems, and will probably be bought in abundance. It's a win-win situation, but spoiler alert: the cooperation between NASCAR and Psyonix goes beyond a bundle this time! We reveal which items will soon be available in the store and what else is on offer for Rocket League fans!
Rocket League Next-Gen NASCAR Fan Pass: Details & Release Date
As already mentioned, Psyonix is bringing the three NASCAR bodies to Rocket League, but this time with a fresh coat of paint. More specifically, we're talking about the inclusion of the NASCAR Next Gen Chevrolet Camaro, the NASCAR Next Gen Toyota Camry, and the NASCAR Next Gen Ford Mustang.

So, let's answer the two most important questions yet: How expensive is the NASCAR Fan Pass 2022, and when will it show up in the Rocket League item shop? Okay, listen up, because we're only going to tell you this once: the NASCAR Fan Pass will be available in Rocket League starting April 20, 2022, and will stick around until April 26. In other words, you don't have to be quick or smart to snag yourself this particular bundle.
With that all out of the way, we've checked off one of the questions. Now, let's move onto the second. The NASCAR Fan Pass 2022, including all items and paint jobs, will cost you 1100 RL Credits. That corresponds to about ten bucks, so check out our listing below. For what's included in this package, it does seem like a pretty good deal.

What Is Included in the NASCAR Fan Pass 2022?
Besides the three next-gen car bodies mentioned above, there are also a few other cosmetic items included in the bundle. Here's a quick overview of what is included:

Item Type
Item Name

Car Body

NASCAR Next Gen Ford Mustang
NASCAR Next Gen Toyota Camry
NASCAR Next Gen Chevrolet Camaro

Engine Side

"NASCAR Next Gen" Sound for all Cars.

Wheels

Sticker (Toyota Camry)

Sticker (Chevrolet Camaro)

Hendrick Motorsports #5
Spire Motorsports #7
Trackhouse Racing #1
Richard Childress Racing #8

Sticker (Ford Mustang)

Team Penske #12
Front Row Motorsports #34
RFK Racing #17
Stewart-Haas Racing #4
Psyonix didn't skimp on items, did they? It gets even better, though... Psyonix plans to release two more content updates in 2022! If you buy the NASCAR Fan Pass 2022 now, the future updates will be unlocked for free when they are released!

Exactly what content we can look forward to is still unknown at this time. However, on the official Rocket League website, the next update in the summer is advertised as follows:
With an update this Summer, you'll get a chance to display clean NASCAR Next Gen promotional Decals that focus more on the car design. Instead of normal livery, each car will get a new custom design showcasing either the Ford Mustang, Toyota Camry, or Chevrolet Camaro brand.
Then, in the fall, it will be the turn of classic Rocket League car bodies and hitboxes like the Octane/Fennec or the Dominus. After that, everyone can represent their favorite team with NASCAR-inspired decals.
What Is The Hitbox Of NASCAR Next-Gen Cars?
Let's not beat around the bush: all three 2022 stock cars feature a Dominus Hitbox and shine in their very own NASCAR livery, so you can represent your favorite team both on the track and in the Battle Arena. Sure, all three bodies behave the same in-game, of course, but thanks to their racing look, you're sure to get the attention of your opponents.

Oh, and by the way – the Dominus Hitbox is especially useful for backing up your mates and making the odd brilliant save per round. If you want to learn more about it, we've written a detailed guide about the Dominus Hitbox.
Does it smell like burning rubber? Nope, that's just excitement. NASCAR returns April 20th with a brand new Fan Pass featuring Next Gen Cars! https://t.co/1uf0jAwY7A pic.twitter.com/iuKozfrNjK

— Rocket League (@RocketLeague) April 18, 2022
So, that's about all you need to know about the NASCAR Fan Pass 2022 in Rocket League. No, wait... there's something else. If you live near Talladega (Alabama, USA) and you're watching the GEICO 500 race, you can play Rocket League on-site! Pretty awesome, right?

I don't know who goes to a NASCAR Event to play Rocket League, but... maybe you just need to keep that rank a-growin'!

This article was originally written by Marco Kilian.