Are you struggling to find grip in F1 22? Can you not find the pace? Is porpoising becoming annoying? Well don't worry, because we've got the solutions for you. Find out how to improve your racing setup, and how to become the best driver possible, by reading our guide into F1 22.
Codemasters has modified the latest generation of F1 games to improve the performance and setup of F1 cars. However, this has caused the driving mechanics to change significantly, and some drivers are struggling to find their balance. But don't worry; we are here to explain how you can improve your F1 22 Setup.
Once you've learned the setup options in F1 22, the challenges associated with driving are lowered by substantial amounts. As such, you will find the balance needed to have straight-line speeds. Moreover, you will be capable of attacking the corners without spinning out or locking your wheels.
Unfortunately, there will always be unexpected flaws to a customized setup in F1 22. Just like with a genuine F1 car, there will be moments of hesitancy with your vehicle, which could cause unnecessary downshifting in the corners. Moreover, it could decrease your speed on the straights.
It would be best to consider the outcome of a customized setup, which can be challenging without a racing wheel. Therefore, we would recommend that beginners & hobbyists use the default setups in F1 22. But what can these default setups offer you in terms of pace? Let's find out.
Should I Use The Default Setups?
Anyone that's experienced an F1 game from Codemasters should use the default setups. Why, might you ask? Because the car performance has changed so much, nobody can understand the difference in pace until they've gained some experience. Therefore, players using custom setups in F1 2020/21 should think different for F1 22. Otherwise, DNFs will be inevitable.
Codemasters provides four different default setups that either increase the speed or downforce of your vehicle. In most circumstances, the setup recommended by Codemasters is enough to win a race. But challenges can arise if other players are using Engine Mode 4. You'll want to consider speed over downforce while improving your talents with cornering.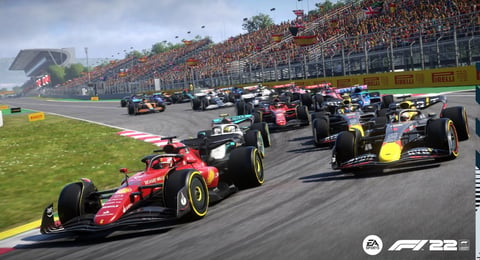 This should make Engine Mode 4 less complex for newcomers. It's noted that Engine Mode 4 is a "Default Engine Setup" in F1 22. You can still change numerous aspect of your car, including:
Driving Proficiency
Traction Control
Steering Assist
Braking Assist
DRS Assist
ERS Assist
Gearbox
These assists can massively change the realism & simulation in F1 22. It's recommended that newcomers don't turn off their assists until having some experience in the latest installment of F1. After you've gained this experience, the assists can slowly be turned off. We have identified which assists should be turned on and off for newcomers.
Check out the launch trailer for F1 22:


Should I Use A Custom Setup?
Creating a customized setup for F1 22 is challenging. These setups can be generalized or specific to one track. For example, you could create a personalized setup for Abu Dhabi or Bahrain, but those setups won't work for tracks like Imola or Miami. This is why most hobbyists choose to select a generalized custom setup.
Vehicle setups are best for players who want to compete in an F1 Online Racing League. However, these customized setups are also beneficial for people competing in multiplayer lobbies. But how do you adjust a customized setup? Let me tell you!
Fuel Load: 10kg to 110kg; Lighter fuel loads result in superior speed.
Aerodynamics: Adjust the front and back wing by the minimum & maximum amount (0-50); Changing the aerodynamics of the front or back wing creates a different level of downforce.
Transmission: Adjust the throttle, We recommend staying around 60-65%. However, 55% is optimal.
Suspension Geometry: Modify the front & rear chambers, while also adjusting the front and rear toe. We recommend a 2.30 front chamber, and 1.00 rear chamber. You want a 0.50 front toe, and 0.20 rear toe.
General Suspension: You can adjust the front and rear suspension, while also having adjustment options for the front anti-roll bar & rear anti-roll bar. Additionally, customization options can include front and rear ride height. We recommend a front suspension of 4, rear suspension of 1, anti-roll bar of four, and ride height of 2/3. This should create the smoothest performance possible.
Brakes: Pressure in the brakes can be adjustment, with the same applying to front brake bias. We recommend maxing out both options to ensure that braking systems work without complication.
Tires: Adjustment over the back and front tires are possible through this setting. We suggest you keep your tire pressure are 22.8PSI to 24.3PSI.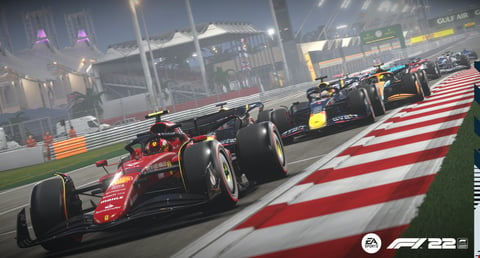 Professional drivers racing in an F1 eSports League will change everything about their vehicle to ensure the best outcome possible in a Grand Prix. Even more so, they will change these setups mid-drive to guarantee that tire temperatures are cooled down during the race. This is an incredibly challenging task for newcomers with little experience in F1 22. Therefore, we recommend that beginners and hobbyists avoid the usage of a customized setup. You will want to improve your experience in F1 22 before these features are utilized.
Fortunately, we've provided a debriefing below on how that experience can be gained.
Beginners Guide
Welcome to the beginner's guide. Below you will find a debriefing of the Assists & Engine Modes that you should use in F1 22.
Driving Proficiency – Amateur
Steering Assist – On
Braking Assist – High
Anti-Lock Brakes – On
Traction Control – On
Dynamic Racing Line – Full
Dynamic Racing Line Type – 3D
Gearbox – Automatic
Pit Assist – On
Pit Release Assist – On
ERS Assist – On
DRS Assist – On
Engine Mode – Two
As you can see, beginners are recommended to use every assist available in F1 22. This is the best way for newcomers to understand the racing mechanics of Codemasters Formula One.
Hobbyists Guide
Welcome to the hobbyist guide. This is where you will begin creating a customized setup by turning off some assists and keeping others on. Look below to acquire the best hobbyist setup possible.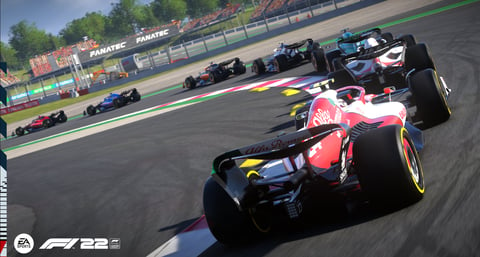 Driving Proficiency – Hobbyist
Steering Assist – Off
Braking Assist – Medium
Anti-Lock Brakes – On
Traction Control – Medium
Dynamic Racing Line – Corners Only
Dynamic Racing Line Type – 3D
Gearbox – Automatic
Pit Assist – Off
Pit Release Assist – Off
ERS Assist – Off
DRS Assist – Off
Engine Mode - Four
This setup requires players to understand their multiplayer car, and to stop relying on every assist. By taking off the ERS and DRS Assists, the speed gained throughout a race is dependent on you.
By removing the Pit Assist and Steering Assist, the outcome of your races could be changed tenfold. You could DNF into the Pit Lane if you weren't paying attention. Therefore, the hobbyist setup requires more concentration than expected.
Experts Guide
We've arrived at the expert's guide. Are you ready for a challenge? Because that's what this customized setup is all about. This setup requires the best of drivers and typically a racing wheel. Therefore, we would only recommend this setup to anyone with significant experience in F1 22.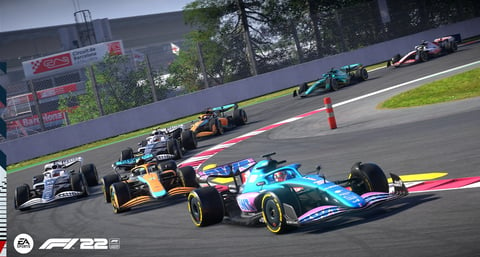 Driving Proficiency – Expert
Steering Assist – Off
Braking Assist – Off
Anti-Lock Brakes – On
Traction Control – Off
Dynamic Racing Line – Off
Dynamic Racing Line Type – 3D
Gearbox – Manual
Pit Assist – Off
Pit Release Assist – Off
ERS Assist – Off
DRS Assist – Off
Engine Mode – Custom
Expert drivers will eliminate every assist available in F1 22. This will allow them to have superior control over their vehicles and to create a driving style that's unique to them. Be warned; this requires a great deal of patience & understanding to master. Don't think you will drive like David Tonizza in F1 eSports, as you probably won't.
The Race Start | Video Explanation
This video provides footage of the F1 22 settings and shows you what a customized setup can do for your race starts. As you'll see, TheF1Champ passed four different drivers at the start. That's because of TheF1Champ's timing on the start and his usage of ERS. If you implement something similar to this in your driving style, an identical result could be experienced.