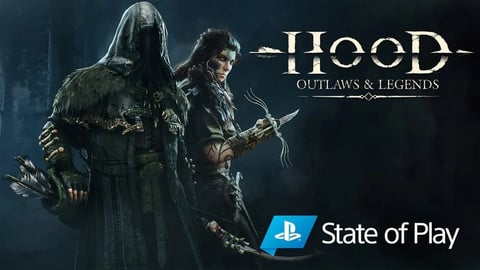 The PlayStation State of Play is over. Last night Sony presented some new highlights for the PS4, PlayStation VR, and PlayStation 5 and we have all the announcements, PS5 games, and highlights gathered for you.
The big hits didn't happen at yesterday's State of Play from Sony, but we were happy about some smaller surprises. After all, another live stream edition of the PlayStation 5 is still to be released in August. Here are all State of Play games, trailers, and highlights at a glance.
Crash Bandicoot 4: It's About Time - New Gameplay Trailer
The cult bandicoot will soon return to the screen. For the fourth part, Crash Bandicoot 4: It's About Time, the former PlayStation mascot presented himself in a fresh gameplay trailer. Part 4 is a sequel to the legendary Platformer trilogy. Among other things, Crash and Coco can be customized with additional outfits, similar to the kart racer spin-off Crash Team Racing Nitro-Fueled. Sony also announced the so-called inverted mode, which was created together with developer Beenox.
In this mode you can expect alternative and graphically adapted versions of the levels in Crash Bandicoot 4, which not only look chic but also provide different gameplay. The game will be released on October 4.
New PS5 Game Hood: Outlaws & Legends to Be Released in 2021
State of Play also made a new announcement for the PlayStation 5 with the stealth action game Hood: Outlaws & Legends. The game will be released in 2021 for PS5 and PC (via Steam) and plays in the Middle Ages. The gameplay is reminiscent of a mixture of Thief and Assassin's Creed, but developer Sumo Digital has based the title mainly on Robin Hood.
Andrew Willans, Game Director at Sumo Newcastle, reveals in the PlayStation Blog:
Hood is not one person. It is an idea. A symbol to the people. A legend. Because we are retelling a legend rather than being historically accurate, we have created our own version of Dark Ages Britain, a time when old world myth and superstition compete with man-made power.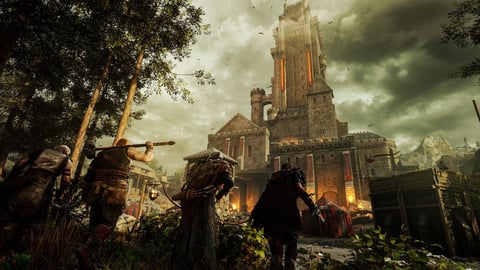 Hood is a multiplayer fast-paced game that combines elements of combat, stealth and strategy. You assemble a team of outlaws and try to steal the treasury of the oppressive government known as "The State".
Two 4-player teams compete against both each other and AI guards, simultaneously hunting the same risky loot in this PvPvE game. Each outlaw has unique abilities and can be played differently. Some are excellent ranged fighters, while others are much better at melee combat.
Pokémon Clone Temtem Also Planned for the PlayStation 5
The MMO monster hunt Temtem will also be released for PlayStation 5, which in terms of gameplay is reminiscent of Nintendo's Pokémon games, but the multiplayer aspect of this colorful comic-style adventure is the focus. A total of six islands in the Airborne Archipelago can be freely explored. The PS5 version will be released in 2021.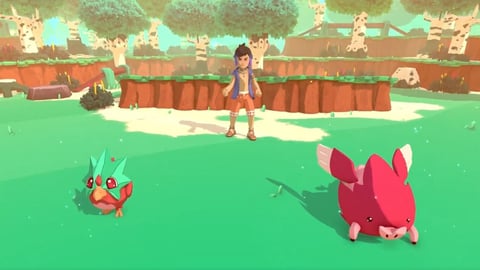 Godfall Gameplay Introduces Combat System
The hack & slash Godfall presented itself in a fresh gameplay trailer that introduces the fighting system of the action title. As a knight, you go out in this cooperative multiplayer title to search for legendary armor sets called Valorplates and avert the apocalypse.
You'll wield a variety of powerful weapons and use unique skills to defend yourself from the dangers. Godfall will be released as a PS5 launch title for the next-gen console.
The Pathless: Gameplay Revealed for the PS5 Action-Adventure
The announcement of the action-adventure The Pathless was made a while ago. Developer Giant Squid has presented the open-world title in a new gameplay trailer, which with its picturesque graphic style already makes you want more. Gameplay-wise the title wants to go new ways and deviate from the typical genre conventions.

Bugsnax gameplay from the PlayStation 5
The motley Bugsnax was one of the surprise hits of the PS5 presentation. The trailer song stayed in the ear and now the developers delivered an actual gameplay trailer of the PS5 game afterwards.
As a journalist, we travel to the game world to capture the eponymous Bugsnax. The game is played from a first-person perspective, in which we lay out the bait and lure the funny creatures into the trap. A bit similar to Pokémon Snap eh? Bugsnax is made by the same studio that created Octodad: Dadliest Catch.
Hitman 3 Gets VR Mode
Our favorite assassin returns in Hitman 3 in January 2021 on PS4 and PlayStation 5. Then we'll be able to witness the contract killings first-hand thanks to PSVR support. The two predecessors also get a PlayStation VR mode. Agent 47 is then controlled from the first-person perspective in a stealth game.
Vader Immortal: A Star Wars VR Series to Be Released in August
At the end of August, VR-loving Star Wars fans will have a new highlight at hand, because then we will slip into the skin of Darth Vader himself in Vader Immortal: A Star Wars VR Series. Star Wars? In VR? What could go wrong?
Auto Chess Comes to PlayStation 4
Last year the Dota 2 mod Dota Auto Chess caused an incredible hype. Dota Underlords, Teamfight Tactics, and Hearthstone Battlegrounds created a new genre in no time and the fascination continues. Now Auto Chess is finally coming to consoles scheduled for October 31.
The turn-based strategy sub-genre combines deck building, troop management, and Battle Royale on one chessboard to a unique mix. You could call it the chess of the 21 century.
15 Best PlayStation 4 Exclusive Games (Updated)
View gallery
Roguelike Hit Spelunky 2 Gets a Release Date
Roguelike fans are already eagerly awaiting the release of Spelunky 2. They won't have to wait much longer. As the new gameplay trailer reveals, the game will already be released on September 16 2020.
The predecessor from 2008 is still considered one of the best and most influential games of its genre. Part 2 comes up with many innovations, including an online multiplayer mode.
Genshin Impact - A Zelda Clone With Fresh Gameplay
The open-world action-adventure game Genshin Impact looks a lot like the Nintendo Switch hit The Legend of Zelda: Breath of the Wild. This gave the game a rather dubious reputation, which it reaffirms in the new gameplay trailer.
However, it does look great and wants to stand out from the obvious template, at least in terms of gameplay. In the fantasy world Teyvat, you control a warrior and the seven elements. There are 20 characters to choose from, all of whom have unique abilities. Sounds exciting.
Read all about PlayStation 5 and all about gaming and esports on EarlyGame. We'll tell you what the new DualSense controller is all about and how Gran Turismo 7 uses next-gen hardware.