Valorant's error codes are unfortunately common. But whether it's connection errors or game bugs, the fixes don't vary that much. So let's take a look at the best solutions for error codes!
Error codes in Valorant are nothing to be afraid of. There are tons of them and may seem scary at times, but the solutions are universal. Only in specific scenarios, you may find yourself stuck with the game. So let's take a look at the best Valorant error codes solution you can try out to fix your problems, and jump in the game with the sexiest agents out there!
Valorant Error Codes Easy Fix: Restart the Riot Client
Restarting the Riot Client has proven to be time and time again the best solution for error codes. Even Riot Games recommend you try this solution first! But sometimes, a simple click on the X button won't do it. So next up, you'll learn how to fully restart the Riot Client!

Open Task Manager by pressing Ctrl+Shift+Esc
Select the Processes tab above and locate the Riot Client
Once you find it, right-click it and click on End Task
You can also end other Valorant processes to ensure the Error Code fix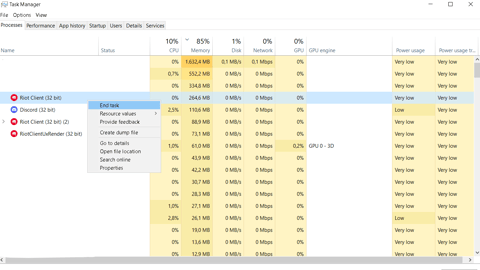 You could also restart your PC, which gives a fresh start to the Riot Client overall. After this, you should be safe to hop in a game with your Vandal!
Stuck in low ranks? Check out these best aim-trainers to improve your gameplay!
Although a universal fix, it won't work all the time. Especially when it's not your fault. And yes, that can be the case because error codes can appear due to Riot Games server issues!
Valorant Servers Error Code: Check the Riot Games Servers
Error codes can sometimes appear due to server maintenance or server issues. This ultimately isn't your fault, but without checking the servers, you won't know for sure if that's the case. That's why you should check the Riot Games servers, and you can do so right here. You will select the region in which you registered your account and see if there are any problems.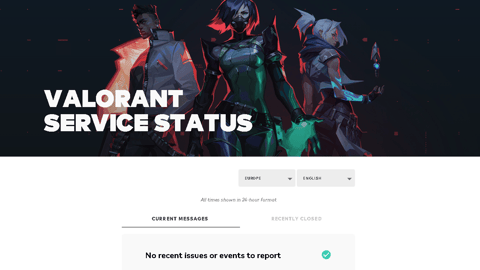 If there are concerns here, all you can do is wait until the issues are resolved by the Riot Devs. Then you should be able to play the game with Neon!
But what if you didn't notice any issues here? Then the problem is most probably caused by the Riot Vanguard and its VGC Service that runs in the background.
Valorant Vanguard Fix: Change VGC Startup Type
The VGC Service is the core of the Riot Vanguard anti-cheat system. Most players have reported that changing the VGC startup type has resolved a lot of error codes, such as Error Code VAN 104. Here's how you can do it:
Press the Windows Key+R to open Run
Type in 'services.msc' and hit Enter
This will open a window with tons of services, your goal is to find the 'vgc' service
Once you find it, right-click it and select Properties
Change the Startup Type option to Automatic, click on Start, Apply, and OK
If you're a Jett main, this definitely should have helped you out! But if not, no worries, there are still solutions left for your error code!
Valorant Firewall PC Issue: Make Exceptions for Riot Vanguard
Valorant and Riot Vanguard require full control of your PC to function properly. If they don't have that control, tons of error codes can appear, such as Error Code 43 and Error Code 29. In this situation, the Firewall and the Virus & Threat Protection are stopping the game from functioning properly, so you should make exceptions for them! Here's how:
Ever wonder what are the most expensive skins? You can check them out here:
Make Vanguard Exception in Windows Firewall
Open up Firewall by searching from it below
Select Allow an app through firewall
Click on Change Settings and Allow another app...
Click on Browse and locate the Riot Vanguard folder ("C:\Program Files\Riot Vanguard")
Select the "vgc" app, click on Open and select Add
In the initial window with apps, locate "Vanguard user-mode service." and make sure both Private and Public boxes are ticked
Make Vanguard Exceptions in Virus & Threat Protection
Open up the Virus and Threat Protection setting by searching for it below
Select Manage Settings, scroll down, and click on Add an exclusion
Select Add an exclusion, click on Folder and locate the Riot Vanguard folder ("C:\Program Files\Riot Vanguard")
Click the folder and click on the Select folder option below
Even celebrities run into error codes in Valorant, so this should've probably fixed it for them! But if this neither fixed your error code, then the last universal solution that has worked 90% of the time is to reinstall Valorant and Vanguard.
Valorant Error Codes Best Fix: Reinstall Riot Vanguard and Valorant
Reinstalling a game has been known as a push-pull fix for all games. Especially Valorant, reinstalling this game can fix tons of corrupted files that have been there from the very beginning, or after an update. You could only reinstall Riot Vanguard, but it is recommended you do these both:
Reinstall Riot Vanguard
Open Task Manager (Ctrl+Shift+Esc) and make sure the Riot Client and Riot Vanguard are fully closed
Search for Command Prompt below, right-click it and run it as an Administrator
Type in the following commands:

'sc delete vgc', hit Enter
'sc delete vgk', hit Enter

You have to restart your PC now
Once your PC gets back up again, open up This PC and locate the Riot Vanguard folder ("C:\Program Files\Riot Vanguard")
Right-click it and Delete the whole Riot Vanguard folder
If you wish to reinstall Valorant too, jump to the next step. If not, you can open up the Riot Client, which should start reinstalling Vanguard
Reinstall Valorant
Search for Apps and features on the search bar and open the first option
Locate VALORANT
Once you find it, select it and click on Uninstall
Open the official Riot Games Valorant site and reinstall the game
This should have hopefully fixed your error code. Reinstalling Valorant is one of the best solutions out there, Reyna-approved! Though, if you are still struggling with error codes, you should contact Riot Support. Submit a ticket, explain your situation, and they should come back to you to resolve your issues with error codes. But these solutions are universal, helping out for every error code out there, so you should be good to go!