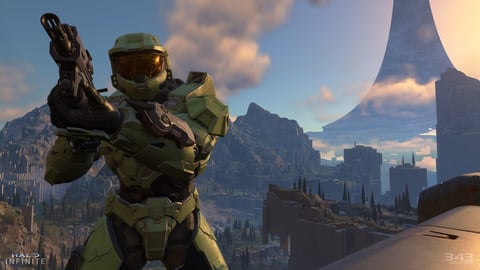 Last night was finally the time. After a long wait, Microsoft presented the new Xbox Series X games at the Xbox Games Showcase. Additionally, we saw some more games for the current console generation.
The Xbox Games Showcase to the games for Microsoft's next-gen console is over. Yes, there were indeed some positive surprises but there were also some negative ones. Without further ado let's take a look at what Microsoft revealed yesterday.
Halo Infinite
Microsoft's flagship shooter is finally back. A full nine minutes of gameplay from the campaign were shown on the Xbox Games Showcase. The game world is supposed to be twice as big as the worlds of the two predecessor parts together.
New gameplay mechanics like the climbing hook, new weapons, new enemies. Yes, the material shown was Halo as it is written in the book. At 60 fps, Infinite was supposed to take full advantage of the power of the Xbox Series X, but somehow the "wow" effect was missing in terms of technology. Without a doubt, Halo Infinite looks chic, but it's not any chicer than the Xbox One X - especially in terms of texture quality. But that's the way it's going to be when the most important exclusive title of 2020 has to be able to run on both generations.
I sincerely hope these are not the graphics we will see in the final version of Halo Infinite.

I know it was a 'demo' but this doesn't look next-gen. This doesn't look like it's being powered by "the world's most powerful console." pic.twitter.com/Yg5BxrS4kf

— The Act Man (@TheActMan_YT) July 23, 2020
Forza Motorsports
Not surprisingly, Turn 10 Studios are working on the new Forza Motorsport. This doesn't have an 8 in its name and could be a reboot of the racing simulation series. The racer is still in an early stage of development but is scheduled to run on Xbox Series X in 4K and 60fps.
Raytracing should also provide incomparable reflections - from the surfaces of the cars reflecting each other to the bright red color reflected from wet asphalt to true-to-life light and shadow simulation. Looks pretty good already and will be a hit playfully anyway.
Forza Horizon 4, the best arcade racer for us, is also released for Xbox Series X thanks to Smart Delivery. Then even in native 4K Ultra HD at 60 fps.
Fable
There was a surprise at the end of the Xbox Games Showcase: The legendary RPG series Fable finally returns on Xbox Series X. Unfortunately there was not much to see about the roleplaying game yet. It's being developed by the Forza Horizon makers Playground Games.
Everwild
Rare also showed his new game Everwild, which is inspired by the diverse beauty of nature and draws you into a mystically beautiful world. With its picturesque graphic style, the title was perhaps THE highlight of the Xbox Games Showcase par excellence.
And we like picturesque games. Right, Ghost of Tsushima?
STALKER 2 Comes as Console-Exclusive
A big surprise: the post-apocalyptic shooter STALKER 2 appears console-exclusively for Xbox Series X. The dark horror shooter, which takes place after the nuclear catastrophe in the immediate vicinity of the Chernobyl power plant, wants to give goosebumps in 2021.
CrossfireX
Call of Duty and Co. might have to dress warmly soon because with the shooter CrossfireX the Alan Wake makers of Remedy have a pretty hot iron in the fire. Besides an extensive multiplayer mode, the shooter has an intensive campaign.
Avowed
RPG experts Obsidian are now making a fantasy role-playing game from a first-person perspective. There was this game with dragons, what was it called. Sky...Ding? Sky...Ring? Yeah, Skyrim!
Anyway, if there's one thing Obsidian does, it's addictive role-playing, and it's a pretty fancy one, too.
The Medium
The horror game from Bloober Team features a cool gameplay twist: in the game you switch between two parallel realities to solve puzzles and face paranormal encounters with ghosts and other dangers.
Xbox Games Showcase: The Other Titles
But that was by far not all that Microsoft showed at the Xbox Games Showcase. Here are a few of the most important announcements in brief:
Warhammer 40,000: Darktide will be a co-op shooter in the 40-K-universe and is based on Vermintide 2
State of Decay 3 coming up!
The MMORPG Phantasy Star Online 2: New Genesis is released console-exclusively on Xbox
Tetris Effect: Connected comes with additional co-op and multiplayer on Xbox Series X
Destiny 2 gets a next-gen version and will be in Game Pass in September
The Outer Wilds gets a new DLC with Peril on Gorgon
Psychonauts 2 showed itself in a new trailer
Good Times for Game Pass Subscribers & PC Players
So what insights are we taking from the Xbox Games Showcase? Xbox Game Pass subscribers have done everything right because all the games shown land directly to the release in the flat rate. That is impressive.
The right graphic hammers are probably still waiting until the previous console generation is no longer supported. Halo Infinite was a little disappointing and looked as if it would run on the Xbox One X - just more fluid. PC gamers with a high-end computer are perhaps THE winners of the Xbox Games Showcase because all the games shown will also appear for the PC. Why exactly should you put an Xbox Series X in your living room if you have a technically advanced computer?
Sure: as a new acquisition, the next-gen console is of course much cheaper (at least that's what we can assume). Microsoft still owes fans the price and release date of the Xbox Series X. We are still only talking about the Christmas business 2020. We expect a release in November.
You can read more news and articles from the world of gaming and esports on EarlyGame. Rumors say that there are already new details about the PlayStation 5 at the beginning of August and FIFA 21 showed up in a first gameplay trailer.