The MP5 is a great all-around SMG, that's easy to use and can outgun most weapons in its class. Here's the best attachment setup for the MP5 and a loadout to use it with.

We knew the MP5 was the strongest SMG in Black Ops Cold War from as early as the beta. It has hardly any recoil, decent range, a high rate of fire, and great controllability. Less than a week after its release, the MP5 was unsurprisingly nerfed. However, only the effective range of the weapon was reduced. All other stats remained unchanged, so it is still one of the most powerful weapons in the game, and one of the easiest to use. Here's the best attachment setup for the MP5.
The Best MP5 Attachment Setup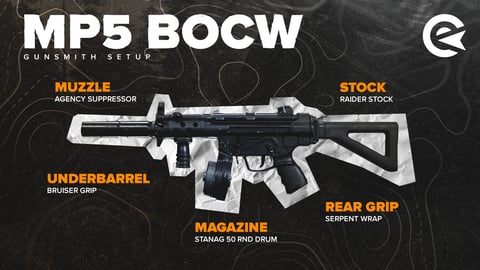 | | |
| --- | --- |
| Component | Attachment |
| Muzzle | Agency Suppressor |
| Stock | Raider Stock |
| Underbarrel | Bruiser Grip |
| Magazine | STANAG 50 Rnd Drum |
| Rear Grip | Serpent Wrap |
Overall, we have a pretty standard close range build here. The huge magazine allows us to get several kills at a time, while the grips and stock provide more mobility. With the suppressor we get a bit of range and bang, we have a really cool MP5 setup.
The Best Secondary, Grenades & Perks For An MP5 Loadout
The Best Secondary Weapon For The MP5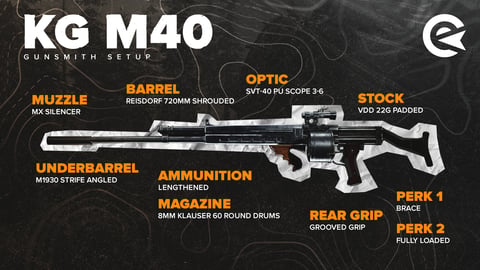 With the MP5 we destroy everything in close combat, but for everything else we need a reliable long-range weapon. Currently, the easiest weapon for long range is the KG M40 assault rifle, which simply has no recoil at all. Accurate at any distance, large magazine, no recoil, what more could you ask for.... Here is our best KG M40 setup.
The Best Equipment For The MP5
| | |
| --- | --- |
| Lethal | Semtex |
| Tactical | Snapshot Grenades |
In terms of equipment, we'll take advantage of having an SMG by using Snapshot Grenades, which are currently the strongest pieces of equipment when you're co-ordinating a push. Alongside the Snapshot Grenades, we've taken Semtex as a good general option. But really any lethal equipment could work well here.

The MP5 was strong, but never as broken as these guns:
The Best Perks For The MP5
| | |
| --- | --- |
| Perk 1 | Double Time |
| Perk 2 | Overkill |
| Perk 3 | Amped |
As with equipment, we want to take advantage of having an SMG in an environment where most players are running ARs and snipers, so we're going to take Double Time and Amped. Double Time will increase our tac-sprint, allowing for fast rotations, and amped will ensure we swap out to the MP5 quickly enough when we see a threat. Overkill is Overkill; we need it for two primary weapons.
Okay gang, that was your overview of the MP5, we hope it helped. If this SMG is feeling a bit too wimpy for you, consider the harder to use but lower TTK Welgun instead.