CS2 was just announced, Fortnite got a nice new update and the Call of Duty community is jealous. Why are CoD players upset this time?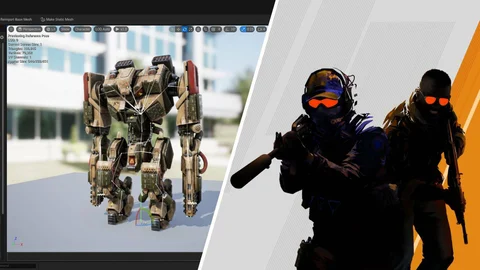 Counter Strike 2 was just announced and looks terrific! Fortnite also got a huge update, the Unreal Editor for Fortnite. And Warzone 2 and Modern Warfare 2? Well, they didn't get anything new, and are instead still waiting for a bunch of features that the community has been begging for for months.
Now, don't get me wrong, the Call of Duty community just loves complaining about basically anything. They don't care at all if the devs are doing the best they can, they will always whine about how everything is shit... But right now, they do have a point.
Where Is The Call of Duty Editor?
So, basically, the main complaint of the CoD community is this: both Counter Strike and Fortnite just got huge updates/announcements which included an editor. The Unreal Editor for Fortnite enables players to create their own maps and more. Someone already built the Elden Ring map and the famous CoD map Rust, and people keep asking for a rebuild of Verdansk. The CS2 editor also looks pretty promising, so it is understandable that Call of Duty players wish, they had something similar.
Call of Duty is severely lagging behind with no map editor or theatre mode, let alone of this calibre https://t.co/6C8BMZflzT

— TheGamingRevolution (@TheGamingRevo3) March 22, 2023
In fact, since before the release of Modern Warfare II it was rumored that MWII would have a map editor. Several leakers suggested we would finally be able to create our own multiplayer maps. But the CoD community isn't just upset about the missing editor. Here are some of the complaints, you can find on Twitter:
Counter Strike 2, Fortnite has all new creative mode, and we're just waiting for Warzone 1 features to return to Warzone 2. Oof.
PUBG Mobile got creative mode.
Fortnite introduced game changing Creative 2.0 with Unreal Editor.
Counter Strike 2 on the way.
Valorant Mobile on the way.

Call of Duty needs to do something game changing as competition is getting insanely tough.
Fortnite Creative 2.0 with unreal editor might just be one of the coolest things for content creators.

Yet in Call of Duty, we no longer even have theater mode - which we had in BO1 back in 2010. I'm not wasting my breath anymore complaining about the same things over and over.
Honestly. Activision needs to take notes.

Fortnite's added Unreal Editor giving so much space for creators to experiment and create amazing stuff.

If something like this can be added to Call of Duty it'd be Amazing.
Call of duty has nothing left but legacy.

Activision will probably miss the point and mandate treyarch rush out a shitty level editor in the next call of duty, just to fuck with their studios developing the games even more.

What do you think, would a map editor save Modern Warfare 2 and Warzone 2? We would definitely love a CoD editor, but it's hard to figure out exactly what the Call of Duty community is after. On the one hand, they want big revolutionary updates, but on the other hand they complain about changes and just want the same game every year...

We absolutely agree that Call of Duty should come up with something innovative if they want to retain their player base, but we're also sure that everyone on Twitter will be going absolutely batshit crazy as soon as Activision actually tries to do something like that. CoD community, make up your mind!
If you want change, stop complaining about change and if you don't want change, stop complaining about how there are no innovative new features...
Have you heard of CoD 2023 yet?
This article contains affiliate links which are marked with [shopping symbol]. These links can provide a small commission for us under certain conditions. This never affects the products price for you.