The Cronen Squall is a Battle Rifle in Warzone 2 and MW2. It's not going to be to everyone's liking, because it kicks like a mule, but it does a ton of damage. Here's how to unlock the Cronen Squall, as well as the best attachment setup for the weapon.

If you can get past the awful name, you might have a bit of fun with the Cronen Squall. This is a new battle rifle released in Season 3 of MW2 and Warzone 2, and it plays similar to the TAQ-V. So, if you like a heavy-hitting machine gun (and you can deal with the recoil) try the Cronen Squall.
You can find a complete guide on how to unlock the Cronen Squall in Modern Warfare 2 and Warzone 2 below, as well as a complete loadout guide. And if you want to find a good weapon to pair with the Cronen Squall, check out this tier-ranking of every weapon in Warzone 2.
Levelling up this weapon for new attachments with be much quicker in Modern Warfare 2 than Warzone 2.
How To Unlock The Cronen Squall
To unlock the Cronen Squall in Modern Warfare 2 and Warzone 2, you will need to spend at least 15 Battle Pass Tokens to unlock the necessary sectors. You could always just buy the BlackCell upgrade to the Battle Pass, which would allow you to instantly unlock the Cronen Squall, but grinding for 15 Battle Pass Tokens really won't take the average player very long.
This is one of the free unlocks in the Battle Pass, so you don't even need to pay for the premium pass to unlock this weapon, you just need the 15 tokens.
The Best Attachment Setup For The Cronen Squall In Warzone 2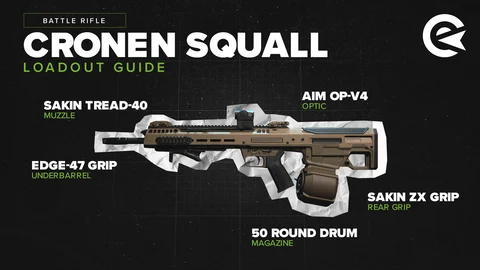 | | |
| --- | --- |
| Slot | Attachment |
| Muzzle | Sakin Tread-40 |
| Optic | AIM OP-V4 |
| Barrel | Sakin ZX Grip |
| Magazine | 50 Round Mag |
| Underbarrel | Edge-47 Grip |
The Cronen Squall has access to 50-round mags, and we think this really improves the viability of the weapon. We've also gone for the Aim-OP 40, but pick any optic you want.All other attachments are picked to grant as much recoil control as possible.
The Best Loadout For The Cronen Squall: Secondary, Perks & Equipment
Secondary: Chimera (Honeybadger)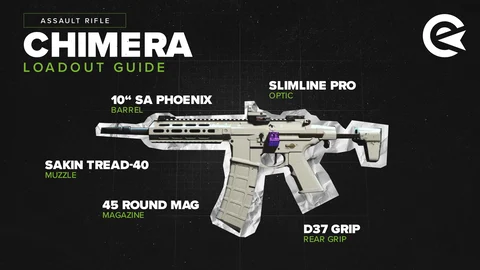 With a long range option like the Cronen Squall, you will of course need something for close-range. Rather than a bog-standard SMG, we would actually suggest a sniper-support like the Chimera. This is basically a hybrid AR/SMG.
Perks (Base, Bonus & Ultimate)
Thank god we can pick perks again:
| | |
| --- | --- |
| Base Perk | Bomb Squad, Overkill |
| Bonus Perk | Fast Hands |
| Ultimate Perk | High Alert |
Bomb Squad allows us to eat a few more nades. Overkill is necessary to take the Cronen Squall and the Chimera in one loadout, and we do need to do that. Fast Hands will allow us to swap between the two weapons more quickly. And in the Ultimate Perk slot, we really like High Alert right now (especially with footstep audio in its current state).
Equipment (Lethal & Tactical)
For our equipment choice we're going a little less aggressive:
| | |
| --- | --- |
| Lethal | Semtex |
| Tactical | Smokes |
Semtex are great grenades, whether you're fighting infantry or vehicles, and smokes are an absolute life-saver for surviving on the open plains of Al Mazrah.

If you try the Cronen Squall and it isn't for you, check out the other battle rifles.
We're hoping they keep the Battle Rifle class around for next year's CoD:
This article contains affiliate links which are marked with [shopping symbol]. These links can provide a small commission for us under certain conditions. This never affects the products price for you.