The new Warzone 2.0 & Modern Warfare 2 Season 2 trailer just dropped and shows a lot of new content in action. Is this enough to revive the game?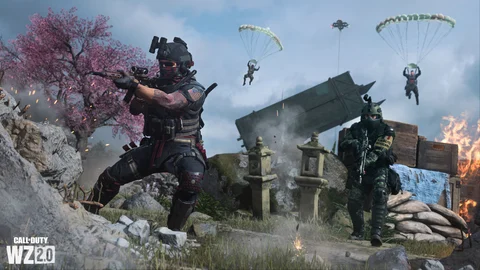 Modern Warfare 2 and Warzone 2.0 have been out for quite a while now, and the initial hype at release has more than died down. Many players are already talking about the game being dead. After we've been busy with Season 1 since mid-November and have received almost no new content, it's high time we got some more.
Fortunately, after a postponement, Season 2 finally starts this week and brings a lot of new content. To find out exactly what's in store for Modern Warfare 2 and Warzone 2.0 on February 15, check out our Hub article...
Or you can watch the just released Season 2 trailer:
Warzone 2.0 & MWII Season 2 Trailer Shows New Content
Finally, there is new content and the Season 2 trailer creates a bit of hype again, at least for us.
The highlight is of course the new resurgence map called Ashika Island with the nice looking Japanese castle in the center. But also the new (or actually old) operator Ronin has taken our fancy once again. With his stylish outfit and dual Kodachis, he fits perfectly on the island.

The new crossbow looks just like its predecessor in MW2019 and should be a lot of fun, especially in stealth builds – maybe we will get explosive bolts again... And the other weapons finally give us a reason to grind again.
Those who still don't want to play Warzone will be especially happy about the new DMZ missions and the fact that we can also play on Ashika in this mode. But also the Ranked Mode in MWII and the new multiplayer maps Dome and Valderas Museum finally bring a reason to sink some time into the game again. Infected and Gun Game are just the icing on the cake.

But besides brand-new content, there will of course also be a lot of gameplay changes. Especially in Warzone 2.0 the devs went back in time to bring back the 1v1 Gulag. Oh yes, and we can finally also speed across the water with damn fast jet skis...
We are really looking forward to Warzone 2.0 and Modern Warfare 2 Season 2. The new content drop is more than necessary and hopefully it can prevent more and more players from dropping out before MW2's proper season cycle has even started.
By the way, there should be a completely new Call of Duty 2023!

This article contains affiliate links which are marked with [shopping symbol]. These links can provide a small commission for us under certain conditions. This never affects the products price for you.