All gamers want a Warzone 2 Ranked mode and after almost three years we finally will. Here you can find all information about the coming Call of Duty: Warzone 2.0 Ranked mode.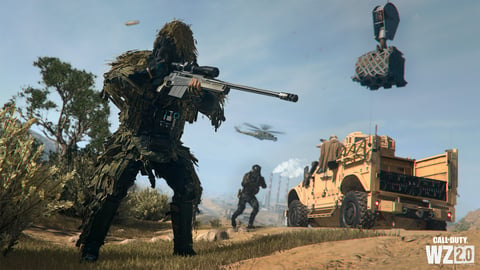 Gamers love to compete against other players in ranked games, and Call of Duty is no different. There's a reason why there's the Call of Duty League, heaps of Warzone tournaments and a Ranked Mode in every new Call of Duty that gets released. So why the heck has there never been a Warzone Ranked? I mean, a lot of Warzone fans have already left Warzone 1 in the past for the competition because Apex has a really good Ranked Mode.
But hey, almost three years after the release of Warzone 1, the time has finally come. Activision announced a Warzone Ranked mode for Warzone 2.0. Let's take a look at what we know about Warzone Ranked so far.
Call of Duty: Ranked Mode Coming To Warzone 2.0

With the launch of Modern Warfare 2 and Warzone 2.0 Season 2 Activision announced that there will be a Warzone Ranked mode coming with Season 3.
Season 02 is almost live, and there's even more on the way. Here's a taste of what's next

Season 02 Reloaded:
New Core 6v6 Multiplayer Map
New RAID episode
New Multiplayer Modes

Season 03 and beyond:
Gunfight
Plunder
Warzone Ranked

— Call of Duty (@CallofDuty) February 15, 2023
TheGhostOfHope already pointed out last year that it's quite possible that the Titanium Trials: Endurance mode from Warzone 1 could have been a test run for Warzone Ranked. According to him, this new mode could test some features that will define Ranked Mode in Warzone 2.
But take this with a grain of salt, since everything we know so far is that Warzone Ranked will be coming in Season 3.
Warzone Ranked Maps
There is still no official information about how the Ranked Mode will work and on which map it will be played. However, if we assume that Titanium Trials: Endurance was kind of a test run for Ranked Mode, here's what we know:
The mode will be available only on Al Mazrah and probably Ashika Island
Armor plates replenish a maximum of 300 HP
At full health and armor, players have 400 HP
Each player starts with a Self Revive at the beginning of the match and after a Gulag win
The loot pool is adjusted to the higher TTK
Obviously, we have no idea yet, so it could very well be, that there are no extra rules at all, and we just get a leaderboard and that's it. But if we should be right, we explained the Titanium Trials mode in detail here.

Warzone Ranked Release Date
Warzone Ranked is supposed to be released with Season 3 of Warzone 2.0 which will probably start in mid-April. This hasn't been confirmed yet and is subject to change, but if seasons are returning to a two-month cycle, which the Battle Pass seems to confirm, then Season 3 should start around April 13th or 19th. Why those dates? Because new Seasons and bigger updates in general always launch on a Wednesday.

And that's all we know about the upcoming ranked mode for Warzone. Are you excited? Does this hype you up even more for Warzone 2.0? I can't wait to jump in and grind the ranks in Warzone. This will definitely increase the enjoyability and longevity of Warzone 2.0 and might help the game to survive.

This article contains affiliate links which are marked with [shopping symbol]. These links can provide a small commission for us under certain conditions. This never affects the products price for you.