Kai Cenat received a pair of ugly sneakers from Twitch instead of a contract, and Adin Ross attempted to convince him to switch to Kick.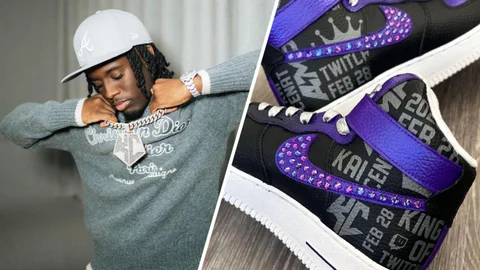 Adin Ross is quite the persuasive guy. After ditching Twitch for Kick last February, he's been trying to bring other streamers along with him. First, he tried to convince IShowSpeed to join Kick after YouTube gave him a strike on his channel. And now, he's set his sights on Kai Cenat.
Twitch sent Kai Cenat sneakers as a congratulatory gift for setting a new overall sub-goal record during his February subathon. However, it seems that Adin Ross, who is trying to convince Kai to join the Kick platform, saw this as an opportunity to poke fun at Twitch and convince Kai to switch platforms by suggesting that Twitch's gift of sneakers was a sign that they weren't serious about signing him to a contract.
After Sneaker Fail: Adin Ross Wants Kai Cenat To Move To Kick
It all started when Twitch sent Kai a pair of sneakers instead of a contract. How did Twitch come up with this idea to give their number one streamer such an ugly pair of shoes? Poor Kai was left confused by this budget-Justin-Bieber looking gift, but Adin saw an opportunity. He sent Kai a text message, urging him to leave Twitch and join Kick.
Adin's message read something like "Hey man, did you see those sneakers Twitch sent you? Yeah, they may be cool, but what you really need is a contract. Come join me on Kick, where the contracts are flowing like a river."
"I hope you see what's going on"

Adin Ross texted Kai Cenat after Twitch gave him customized sneakers instead of a contract pic.twitter.com/ARK15qZEjc

— AdinUpdate (@AdinUpdate) March 27, 2023
Kai's response was a bit cryptic, saying "the door is open". This left fans wondering if he's going to take Adin up on his offer or not. But one thing's for sure, Adin isn't giving up on his quest to recruit more streamers to Kick. Will he be successful? Only time will tell. But until then, keep an eye on our entertainment section for more updates on this saga.