Big Twitch fail: worst gift ever to the streamer king Kai Cenat. It's the thought that counts...but sometimes the thought should count a little harder.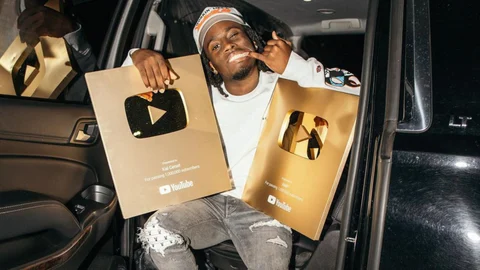 Twitch sent Kai Cenat a custom pair of shoes to celebrate his record-breaking success on their platform.
But poor Kai was left scratching his head, wondering why the heck Twitch was sending him footwear instead of, you know, something useful like cash or snacks… perhaps also a contract after what he has achieved?
The confused king of twitch couldn't help but feel like he'd stepped into a bizarre alternate reality where shoes were the ultimate symbol of achievement. But hey, at least his feet will look stylish while he streams, right?
Twitch Sends Wrong Package To Kai Cenat - Sneakers Instead Of Contract
Twitch sent Kai Cenat a package and the poor guy was hoping it would be something exciting, like a fat contract or a lifetime supply of tacos. But it was just a pair of custom shoes with Twitch's logo on them.
there's no way twitch gifted Kai Cenat some JoJo Siwa looking ass shoes as a reward for his success pic.twitter.com/7nNOKhv1BU

— ryan (@scubaryan_) March 26, 2023
Kai looked like he'd just seen a ghost when he opened the box, as if he couldn't believe his eyes. The shoes themselves looked like they'd been designed by a kindergartner, covered in weird writing and bright purple accents.
It was like Twitch had raided Justin Bieber's closet and sent Kai the leftovers. The only thing left for Kai to do was to play "Shake It Up" and try to shake off the disappointment.
Meanwhile, his fans were not impressed, calling the shoes ugly and accusing Twitch of being low-key racist. Twitch has been able to earn a lot of money through him, so why they made such a move removes a mystery.
One thing is clear: they could hardly have been more embarrassing. This has to be one of "the worst gifts ever" compared to what Kai has done for Twitch.