Thanks to the changes brought about by the reboot of the DCU, we're getting some really cool TV-Shows in 2023.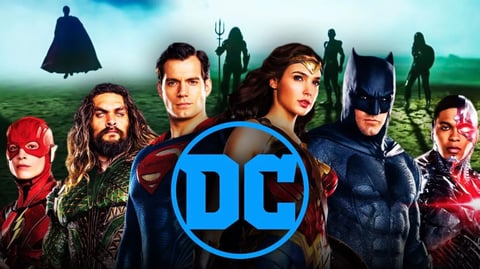 With the coming reboot of the DCU, large changes are on the horizon for us fans. Many movies and shows are coming, and in this article we'll go through the lot!
DC Shows 2023: Release Dates, Plot & More

Currently, we are looking at 5 different shows with two of them ending in a final season.
| | |
| --- | --- |
| DC Show | Release Date |
| The Flash Season 9 | February 8, 2023 |
| Superman & Lois Season 3 | March 14, 2023 |
| Gotham Knights | March 14, 2023 |
| Titans Season 4 Part 2 | TBC |
| Doom Patrol Season 4 Part 2 | TBC |
The three shows on the top are all part of CW's Arrowverse, while the other two belong to HBO Max. Especially interesting in my opinion is the debut of Gotham Knights and that's not only because I like dark and brooding atmospheres.
The Flash – Season 9 (February 8, 2023)
Honestly, 9 seasons are quite a sum. Not many shows are successful or popular enough to achieve this. But the Flash has accomplished it and for almost ten years fans have followed Barry Allen's story. Finally, it is coming to an end with this last season.
This final season was met with mediocre reviews, but looking at any show going on for way too long, there is bound to be a drop in quality. You could argue that there should be enough source material to, at least for the writing, keep things appealing, but the show kind of deviated too far from the comics to make that argument.

What we're left with is another season of an already stale show, that most people probably already dropped five seasons ago.

Superman & Lois – Season 3 (March 14, 2023)
Time for a hero to swoop in and save the day! What hero could be better suited then the old time classic Superman! We're now following the Superfamily into a third season, and it looks…okay:
Honestly, the whole series has been a refreshing take on Clark Kent as more than just the world's biggest superhero. Seeing him be a father and trying to be there for his kids is everything for me. Sometimes a more grounded story is all you need.
Now some bad news, because they recast the actor: Jonathan Kent has changed from Jordan Elsass to Michael Bishop. I think he is doing a decent job, though.

It's actually good to see a show that matches expectations and at some points is even able to exceed them. Hopefully we can see more of that in the future!

Gotham Knights (March 14, 2023)
After the release of the game we finally received a TV series, too bad it doesn't look any good...

After the death of Bruce Wayne aka. Batman, his adopted son and the children of some villains get accused of murdering him. Now they need to fight to find the truth and prove their innocence by working together. That's what I call an amazing setup!
Interestingly the character of Turner Hayes is completely new to this series, while his companions and the antagonist all have some basis in the comics. For example, we have vigilante Bluebird, Joker's Daughter Duela and Harvey Dent aka. Two Face played by Supernatural star Misha Collins.
Titans – Season 4 Part 2 (TBC)
Let's hop over to a different version of the story with the series Titans. HBO made the interesting decision to split the fourth season into two 6-episode parts. Of course, we've already seen the first part, so hopefully soon the other half will be on our screen.
Director Nick Copus made some vague comments on an April release date, but currently we sadly don't know anymore.
Doom Patrol – Season 4 Part 2 (TBC)
Sadly this is the end of the line for the Doom Patrol. HBO has announced the fourth season will be the last journey for our beloved characters. In addition, due to their decision to split the season just like with Titans we don't know, when we will get to see the end.
We will truly miss our heroes, but honestly I rather, we get a good sendoff than multiple drawn out seasons to ruin their legacy.
With that the list for DC shows in 2023 is done. As you can see we got something new, continuations and endings, so a full circle.
This article contains affiliate links which are marked with [shopping symbol]. These links can provide a small commission for us under certain conditions. This never affects the products price for you.