Despite the numerous lawsuits circling Activision Blizzard at the moment, Amouranth has bought $2M USD in stocks.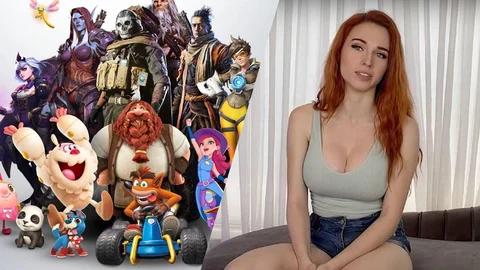 Good ol' Amouranth has made a rather questionable decision: to purchase $2 Million USD in Activision Blizzard stocks. This is a rather bizarre thing to do considering that the company is currently embroiled in a number of lawsuits related to the sexual harassment and discrimination allegations lodged against them mid-last year.
In typical Amouranth style, though, she has a justification for it and it's rather... well... logical. I know, surprising, right? Well, sort of. The idea of trying to get a board seat at Activision for the purpose to "de-objectify women" whenshe's making millions on OnlyFans seems a bit odd, to be honest.
But whatever her motives, she's certainly ready to launch onto Twitter to defend herself, and that's where this article comes in. What on Earth does Amouranth think that she will achieve with this investment, and will she be successful? Let's take a look...
Why Did Amouranth Buy Activision Stock?
Amouranth bought stock in Activision Blizzard allegedly to get herself a seat on the board. With that power she will apparently seek to de-objectify women and help out in the plight of company employees who have been facing a lot of adversity in their current situation
I'm going for a board seat with the aim to de-objectify women. Turn them back from bowls of fruit into women.
Whether she will be at all able to make these changes (or get herself a board seat, for that matter) seems a little unlikely. But hey, you ain't going to get anywhere if you don't try, right? Why not attempt something noteworthy, even if it doesn't work out in the end?
Oh, also, she could make some real money out of this purchase, especially if Activision's stock bounces back after this mess has been resolved...
Bought almost $2,000,000 $ATVI
Roughly a 20% "Uncorrelated" return if $MSFT deal goes through
MY FIRST MERGER ARBITRAGE!
Bought almost $2,000,000 $ATVI
Roughly a 20% "Uncorrelated" return if $MSFT deal goes through

MY FIRST MERGER ARBITRAGE! #WolfinLingerie pic.twitter.com/DNuq6HPA8X

— Kaitlyn (@wildkait) March 28, 2022
Well, she is injecting literally millions of dollars into the pockets of a company that may (or may not) have systematically discriminated against women for years. This is also the same company that is known for union-busting and extremely anti-consumer practices.
After all, we did call for players to boycott Warzone's Caldera Map after they fired a load of QR Testers back in late 2021. It seems a bit bizarre to inject funds into their share portfolio and claim that its to "de-objectify women", come on Amouranth!