No risk, no fun – as Amouranth comments on possible switch to Kick. Will she fully commit to Kick or rather stay safe and just enjoy both platforms?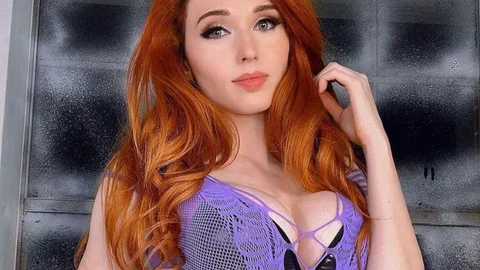 Amouranth, a popular Twitch and OnlyFans personality, has addressed whether she will be switching to rival streaming platform Kick. Kick has been gaining traction as a competitor to Twitch, with its attractive 95/5 sub split and a roster of notable streamers including Adin Ross, HeelMike, and GMHikaru. There have also been rumors that Dr Disrespect, a Twitch legend who was banned from the platform, may join Kick. Of course, if the Kick train leaves without her, it could be a problem.
She expressed anxiety about the possibility of Twitch finding it more convenient to justify banning her if she joined Kick. Despite these apprehensions, Amouranth didn't dismiss the idea of streaming on both platforms.
Will Amouranth Join Kick?

During an interview (starts from 14:36 min) with Essentially Sports, Amouranth discussed her concerns about joining Kick. She stated that while she would be willing to give it a try for a certain amount of money, she would not go exclusive on the platform because its reputation is rather shady. She cited the controversies surrounding Kick, including HeelMike's one-day ban after receiving oral sex on stream.
She explained that streamers should not criticize the platform they still plan to be on because it could lead to a ban. She is concerned that if she were to join Kick, Twitch may find it easier to justify banning her. Nonetheless, Amouranth acknowledged that it is possible to stream on both platforms, but advised streamers to avoid biting the hand that feeds them.
As more streamers consider moving to Kick and Trainwreck continues to promote the platform, it remains to be seen whether Amouranth will make the switch or stay with Twitch for the foreseeable future.