Ludwig has announced his own Fortnite Tournament series, putting $100,000 USD on the line and streaming it on his own YouTube channel.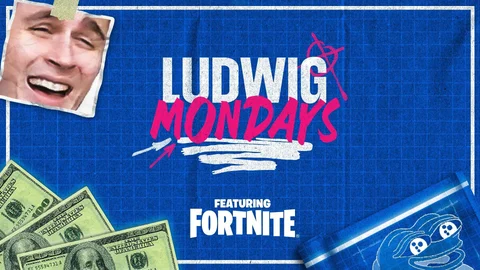 Another day, another Fortnite Tournament. This time it's from Ludwig, and it has a $100,000 USD prize. Is there anything else to really tell you, if I want to sell it? Well, not really, that's about it. Whilst I may be kidding, it's certainly an impressive effort from the YouTube star, who has so far never hosted an event that even comes close to this kind of scale.
Ludwig has been in the headlines lately, publicly declaring his hatred of Amouranth's farts only a few weeks ago. This comes six months after the star lost a partnership deal due to the very same OnlyFans star's antics. Now he seems to be bouncing back, enough that he can afford to give away $100,000 USD as prize money in his very own tournament.
Ultimately, though, time will only tell whether this new Ludwig Mondays Tournament will be very successful. He has confirmed that the game in question will be Fortnite, and it is not entirely out of the realm of possibility that this is all some incredibly elaborate troll. After all, Pepe the Frog is on the Tournament's marketing material...
What Do We Know About Ludwig Mondays?
Not a huge amount is known yet about Ludwig Mondays, except for a few details about where it will be streamed, the game, and its prize. Here's a brief rundown of everything we know:
Ludwig Mondays will feature a $100,000 total prize pool.
Ludwig Mondays will be streamed live on Ludwig's YouTube channel.
Ludwig Mondays will be a Fortnite Tournament.
When is Ludwig Mondays?
As the name suggests, Ludwig Mondays will occur on Mondays, starting from an as-of-writing unspecified date. You will be able to watch his stream via a livestream that will be hosted on his YouTube channel. It is unclear whether it will be featured on any other platforms. It would be a little odd if it wasn't, though...
LUDWIG MONDAYS SECURED THE BAG

$100,000 PARTNERSHIP WITH EPIC GAMES

NEXT TOURNAMENT WILL BE FOR SMALL CREATORS (LESS THAN 1,000 AVG VIEWERS, NO PROS)

SEE YOU THERE #EPICPARTNER pic.twitter.com/rg4TcgW1Gl

— ludwig (@LudwigAhgren) April 11, 2022
What is the First Ludwig Mondays?
The First Ludwig Mondays does not have a specifically announced date, but will focus on "small creators". Ludwig established in his Twitter announcement (seen above) that these small creators will be defined as those who average less than 1000 views and are no pro players. If you fit that category, you could apply to be part of the very first Ludwig Mondays.
We imagine that this will involve a pretty standardized rule set, and a tournament fought out by a large number of more minor influencers. Pretty cool, right? Well, do keep in mind that the $100,000 USD will be split between all the events that he will run, so that won't all go towards a single tournament. Anyway, it's an interesting concept, and we are curious to see what Ludwig does with it...