During a recent Twitch stream, Pokimane opened up about one of her strategies for handling toxic messages.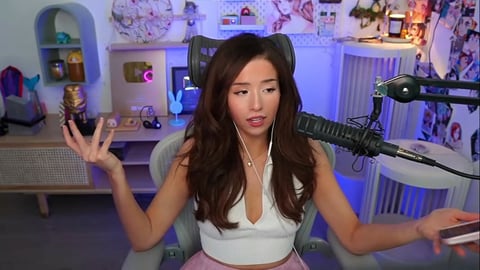 Female Twitch Star Imane "Pokimane" Anys recently revealed one of her "biggest secrets" for dealing with Twitter trolls. The shocking secret is, she employs a team of people, that block and mute people for her.
Pokimane is no stranger to being harassed online. In fact, she probably has the longest ban list of all streamers on Twitch.
Now the female streamer opened up about how she deals with toxic accounts on Twitter.
Pokimane Admits To Hiring A Team To Block People on Twitter
During her broadcast on January 31, Pokimane revealed that she doesn't even see most of the mean Tweets directed her way.
The reason for this is that she employs a team of people to go through her Twitter responses and block accounts for her.
"Okay, one of my biggest secrets that I'm gonna reveal right now – I don't think I've revealed this before. So you say your mute list is expanding, and here's the thing. My block list expands too. But here's the other thing. I'm not even the one blocking people".
This is actually pretty similar to the way moderators operate a streamers chat, allowing them to focus on the broadcast.
"Like if people say some weird sh*t in my replies, on God, 90% of the time I don't see it. I have people on my account blocking people for me."
After this statement, she continued to make fun of people that might get a little satisfaction out of the fact that "Pokimane banned them", when in fact it was some unknown employee.
Pokimane really is a pro at handling toxicity, but I guess you would need the necessary amount of cash to employ those kinds of tactics.