As you probably all know by now, Andrew Tate has been arrested in Romania on suspicion of sex trafficking. He just filled in his visitation forms, which will guarantee five people the right to be able to visit him. Four of those people are family members and one of them is... Adin Ross?!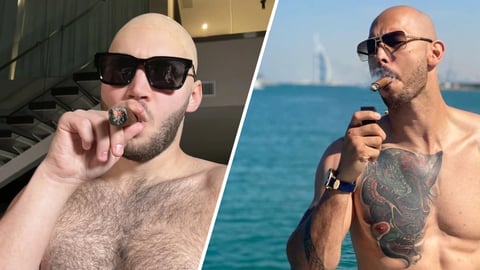 Andrew Tate was recently arrested on suspicion of sex trafficking in Romania. And while his fanboys have been hard at work protesting across Europe, with huge marches of teenagers chanting "Free Top G", it looks like Tate will remain behind bars for at least the rest of January while police continue their investigation.
While he's in a jail, Andrew Tate is entitled to visitation rights. But he's only allowed to choose five people that can visit. Five of the most important people in his life, including Adin Ross. Yes, really.
Andrew Tate Chooses Adin Ross In Visitation Forms
Andrew Tate recently revealed that, besides his lawyer, he can choose five individuals who will be able to visit him in prison if they so please. Four of the five people who now have visitation rights are family members, the fifth is streaming-sensation Adin Ross. Now, the pair have enjoyed a budding online friendship over the past few months, and Adin seems to be genuinely inspired by Andrew, but nobody saw this coming.
Here's the news from Tate himself:
Seems like Andrew Tate is hoping Adin actually comes to visit, but it seems more likely this is just a publicity stunt to stay relevant.

With Adin's response, it is pretty much confirmed now, that he is going to visit "Top G" in jail.
Adin Ross Is Down To Visit Andrew Tate In Jail
Even though Adin has distanced himself from other controversial figures, like he has with Kanye, it looks like Tate is the exception. In his response video to Andrew Tate's invitation, the popular streamer proclaims that he's down to visit him in jail.

The popular Twitch streamer seems pretty happy, Tate put him on his visitation list, as he proclaims: "I woke up to that, and I just had the biggest smile on my face. I'm like oh my god, this is real, this is crazy."

He went on to say, "I'm putting in work every day, going to the gym, working on my mind. So I'm just letting you all know right now that I'm locked in. And the answer to everyone's question is if I'm going to go see Andrew in jail because he did put me on his visitation list."

Adin then proceeded to give his answer by revving the car, stating: "Andrew Tate, I'm on my way. I'll see you in Romania, G. Love you, brother."

So far, Adin Ross has not gone to visit Andrew Tate in jail. However, as soon as he does, we'll be sure to keep you updated.
What do you think about the Adin Ross x Andrew Tate friendship? All fun and games, or should Adin come out and denounce Tate?

Want more confirmation that we're living in a dystopian hellscape? Check out this sweet vid!