Twitch streamer Hasanabi accidentally adopted one of the most expensive dog breeds in the world...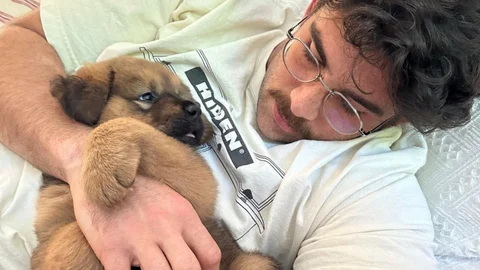 Hasanabi recently found himself in a bit of a ruff spot after discovering that the adorable puppy he had adopted turned out to be one of the most expensive dog breeds in the world. It seems that while he was expecting a cuddly companion that would cost him a few kibbles and bits, he had unwittingly acquired a furry friend worth more than his streaming setup! Despite the unexpected expense, Hasanabi's fans couldn't help but paws to appreciate the cuteness of his new four-legged friend.
As it turns out, the breed of dog he adopted is known to have a large appetite and requires a lot of food to maintain its size and health. In fact, the cost of feeding his new pet may end up being more than the energy costs of his streaming setup…
"This Is The Gucci Of Dogs" - Hasan Adopts One Of The Most Expensive Dog Breeds In The World
Hasanabi recently took on a new challenge: adopting a puppy he thought was a Tibetan Mastiff named Kaya. But as he delved deeper into the world of his fluffy companion, he stumbled upon a shocking discovery: Kaya may just be one of the most expensive dogs on the planet. After watching a video about her breed, Hasanabi realized the gravity of the situation. "Uh oh," he muttered under his breath, as he began to sweat. "They're f***ing expensive!"
Hasan may have thought he was just adopting a cute little fluffy puppy, but it turns out he actually adopted a furry little bundle of expensive trouble! The breed of his new pup, which he believed to be a Tibetan Mastiff, is notorious for being one of the most expensive in the world. It's no wonder Hasan is feeling a bit like he's just bought a Gucci shirt - but at least he'll be able to cuddle with his new designer dog!
Despite the potential financial strain of owning such an expensive pup, Hasan couldn't resist the charms of his cute little fluffball. He might need to start selling his bathwater to afford Kaya - his fans would be happy.
This article contains affiliate links which are marked with [shopping symbol]. These links can provide a small commission for us under certain conditions. This never affects the products price for you.