xQc decided to shoot his shot with popular female rapper Ice Spice, proving once and for all that he got negative rizz.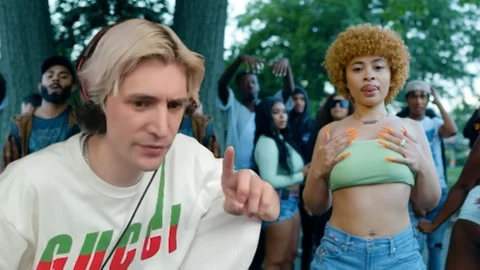 Twitch star Felix "xQc" Lengyel decided to test out his luck by sliding into the dms of popular female rapper Ice Spice… twice. Problem is, he did so sounding like a thirsty teenager who has never spoken to a woman before.
Ice Spice is a female rapper who has been blowing up on the internet after a couple of her songs went viral on Twitter, SoundCloud, and TikTok. She already made her first appearance on Twitch as well, being featured on Kai Cenat's stream talking about what kinda men she's into.

xQc probably took notes during that stream, as he now wants to get her onto his stream next, as his new "roommate".

xQc Pretty Much Begs Ice Spice To Date Him
During a stream, xQc made it very clear that he had a thing for the popular rapper, when he tried his luck, even asking ChatGPT for help in writing his message.
The popular streamer was listening to Ice Spice's newest song, when the lyrics gave him a clue as to how to get with his unrequited crush.
In her song Princess Diana, she sings: "Tryna be low, he gon' hit up my 'Gram / If he smart, he gon' act like a fan", which caused xQc to instantly hit up her Instagram and send a cringy message.
It seems like he got no response, though, as a couple of days later he used his chance to respond to one of her tweets by saying: "I lost my receipt because my dog ate it. I was the dog. Please date me."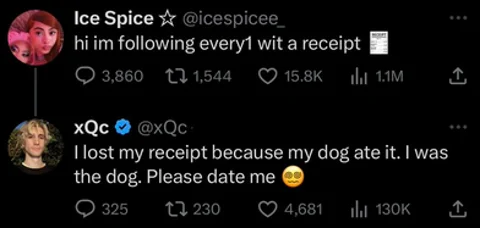 Somebody give this man a cold shower, he needs to cool down and touch some grass!
Shortly after xQc posted his response, Ice Spice actually deleted the tweet, so I guess that's a hard pass?
With the lines between streamers and actual A-list celebrities getting blurry, we might see more rappers, actors etc. appear on Twitch. Just look at Kai having people like Drake or 21 Savage on his stream.
This article contains affiliate links which are marked with [shopping symbol]. These links can provide a small commission for us under certain conditions. This never affects the products price for you.