If you ever wondered how to get girls, this female Twitch streamer just revealed how her boyfriend slid into her DMs.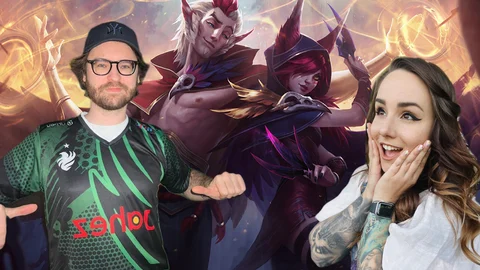 The Twitch streamer MissRage recently explained on Twitter how her boyfriend of 9 years won her heart - by playing League of Legends.
Julia "MissRage" Kreuzer is an Austrian streamer who boasts more than 355,000 followers, mostly playing World of Warcraft, Valorant, and League of Legends in both German and English.

She also posts a ton of fitness and cooking/food content on her YouTube and Instagram, so she definitely offers a decent variety.
MissRage Details How Her Boyfriend Won Her Heart Playing League of Legends
On April 10, a user called InraiBriana asked couples on Twitter to tell the stories of how they met. Among the people replying to the tweet was MissRage.
She met her boyfriend, Nathan Schmitt, all the way back in 2014 when he slid into her DMs calling her a… "Cute guinea pig"? Well, I mean, it worked! But maybe the real reason things worked out were his mad gamer skills, that allowed him to carry Missrage into Gold in League of Legends ranked.
Take notes, boys, this is how you pick up girls!

The two of them met for the first time, IRL after two months and at that time, Nathan instantly introduced her as his girlfriend to his friends.
This was 9 years, 3 cats, 2 dogs and a house ago and MissRage claims she "couldn't be happier about how everything went", so bro has truly got that rizz everyone is talking about.

He slid into my dms calling me a cute guinea pig & carried me to gold in league 2014. we met irl after 2 months and he instantly introduced me as his GF to his friend
9 years later we own a house, 3 cats and 2 dogs together. Couldn't be happier about how everything went https://t.co/XfZuAKBmsb pic.twitter.com/4xS6sWyfqq

— Miss Rage (@missrage) April 13, 2023
Always wholesome seeing cute gamer couples like this, being happy.
For those of you who are curious, her boyfriend, Nathan "NBK" Schmitt, is a French CS:GO pro, so he definitely got those epic-gamer-genes.

And for those of you who are out there looking for a cute gamer girlfriend, just a friendly reminder to not be a creep online. We don't need a CookieLoL 2.0.
I wouldn't recommend cheating to carry your crash. Nobody likes a cheater:
This article contains affiliate links which are marked with [shopping symbol]. These links can provide a small commission for us under certain conditions. This never affects the products price for you.