A streamer made a bad joke about his God of War run, and Twitch banned him for it. This showcases how many problems the platform really has and why more and more people are leaving.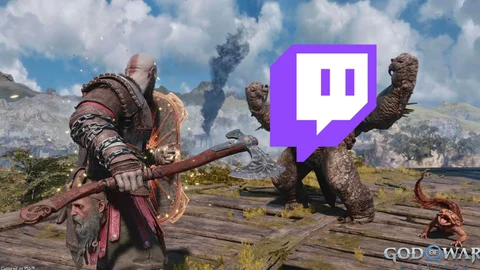 Twitch is the number one streaming platform on the internet. But in the last few years more and more problems have come up with very questionable content roaming free on the website while others are getting banned for virtually nothing. A few months ago, another streamer got hit with a permanent ban for a ridiculous reason, and we have to talk about it
Streamer Makes Bad Joke = Ban From Twitch
Skumnut is a streamer, who focuses on the Souls series and hard challenges. 4 months ago he undertook another challenge, though it was in God of War Ragnarök. Essentially, he beat the whole game just using the kicking attack Kratos has and on the highest difficulty. It took him a whole week of non-stop playing, but he succeeded and finished his first play through of the entire series.
Such an accomplishment needs to be shared, so he went to his friend's stream and posted the following message into the chat:
I will kick you to death
His friend then talked about his run, and it was very clear that Skumnut was joking. Apparently, Twitch did not think the joke was funny, but their reaction was a bit...extreme. The Souls streamer found himself banned from streaming due to a violation of the Terms of Service. Even worse, according to Twitch this was not his first time breaking them.
Now this was news to Skumnut as he had never received any emails or other communication stating any incidents. Both he and his friend reached out to Twitch, but the company did not budge. To this day his account is suspended, and he can only appeal it once every 6 months! Currently, the streamer is still suspended with no real explanation.
There are a lot of things really problematic with this situation. For starters, out of nowhere, Twitch just banned a streamer and threatened his job and income. Even worse, they cite mysterious incidents, but never communicated them to the streamer himself. Now maybe Twitch does have some violations listed, though they should still be transparent, especially as such suspension can endanger someone's job. The other option is even worse and might mean there are no violations, but the streaming platform doesn't want to admit their mistakes.
Another point to bring up are all the times Twitch just looks away. How come one streamer gets banned for a little joke, while others can practically stream porn without consequences? This issue has been brought up many times, and it is weird to see the streaming platform be so quick to pull the trigger...on the wrong person.
All this just shows again, how Twitch has some very bad priorities right now. Please run a streaming platform, where people can enjoy playing their favorite games, and don't act as a bad joke police.
This article contains affiliate links which are marked with [shopping symbol]. These links can provide a small commission for us under certain conditions. This never affects the products price for you.