YouTuber MuKitty has accused Twitch streamer MoistCr1TiKal of supporting porn being promoted to kids, after a Fansly ad was shown at the Streamer Awards.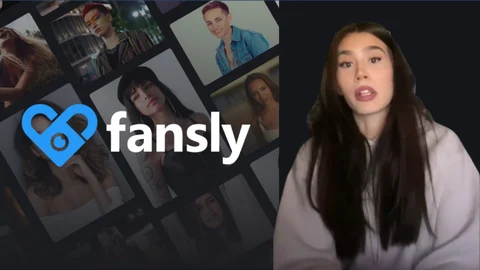 After the controversy of the Streamer Awards promoting Fansly, several individual streamers faced backlash for allegedly promoting porn to kids, one of them being Charles "MoistCr1TiKal" White.
The Streamer Awards were one of the biggest events in Twitch history, with around 400k average viewers and a lot of the biggest names in the industry being present.
During the show, they featured an ad for Fansly, which is a competitor to the popular adult content platform OnlyFans. This led to a lot of backlash, as Twitch is meant to be a platform for users of all ages, including minors.
MuKitty Calls Out Charlie For Being HyP0Cr1TiKal
After the drama around the promotion of adult content at the Streamer Awards calmed down a little, the YouTuber MuKitty started calling out streamers for being hypocritical. "Exposing" Twitch streamers is pretty much her whole content, and she happily picked up on this controversy.
She especially focused on MoistCr1Tikal and called him out for condemning Adin Ross for broadcasting porn to his underage audience, while not speaking out against the promotion of Fansly during the Streamer Awards.
MuKitty also accuses him of twisting the narrative in his response video, misquoting her and putting words in her mouth. She also claims that his statement in the topic released after she called him out, therefore being some kind of scheme.
Since then, Charlie uploaded a 41-minute-long response video, debunking her accusations. He argued that he was never as "tight-lipped" as she made him out to be and that it was in fact her who twisted the narrative to her advantage, by taking clips out of context.
MoistCr1TiKal concedes one point, though, saying that maybe he "didn't come out hard enough against it, so maybe that led to a lot of confusion". Whether that justifies calling him hypocritical, pretty much implicating that he support porn being promoted to kids, is a different topic.
Overall, it seems like Mukitty is kind of blowing things out of proportion, making it seem worse than it actually is to have better content. She paints the picture of MoistCr1TiKal being some kind of villain that masterfully manipulated public opinion.
Charlie's response video was met with a lot of positive feedback, so perhaps he truly is the evil master manipulator she makes him out to be. But If he is, she needs to do a better job at providing evidence to expose him once and for all.
This article contains affiliate links which are marked with [shopping symbol]. These links can provide a small commission for us under certain conditions. This never affects the products price for you.