When xQc watched an NBA game with fellow streamer Buddha, he almost got kicked out, but was saved by none other than Jack Nicholson's son.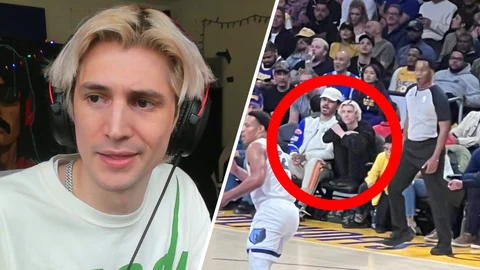 Twitch stars Felix "xQc" Lengyel and Lucas "Buddha" Ramos were almost kicked out of an NBA game by players of the Memphis Grizzlies for being annoying. Coming to the rescue was none other than Ray Nicholson.

xQc and Buddha know a thing or two about talking sh*t, especially when role-playing on GTA's NoPixel server. This time, though, they were in over their heads, and they were not even doing the sh*ttalking, leading to them almost getting kicked out of an NBA game.
xQc is a well known variety streamer on Twitch, who pretty much does it all and is loud doing so. Buddha on the other hand is best known for one thing and one thing only, his GTA RP streams on the NoPixel server.

xQc & Buddha Almost Get Kick Out Of Lakers Game
The two of them were simply enjoying a nice game of basketball (while probably being a little annoying doing so), when they were approached by a security guard, telling them the Memphis Grizzlies bench players wanted them gone.
never been to a basketball game I'm kinda nervous for no reason. Also: I SEE HIM pic.twitter.com/YZoK3bA4dd

— xQc (@xQc) April 25, 2023
Buddha talked about the situation on his stream, explaining how the people next to them almost got them kicked out.
The people next to them were apparently the son and nephew of Jack Nicholson and according to Buddha they were going ham on the Memphis players, the refs, and even the coach.
Buddha explained that "what happened was, they were talking so much s*** that I'm pretty sure the Memphis bench knew they couldn't kick these guys out, and they thought we were all boys cause we were chatting up the whole time. So to try to get at this motherf***er, they tried to kick us out."
As you probably can guess from the title, though, they didn't get kicked out. Apparently, Jack Nicholson's son, Ray, "knew everybody" and was an absolute bro, helping them out.
Buddha recalled the situation on stream, saying: "he had our back, which is sick as f** when the guys tried to kick us out. Like he said, 'no, no, no why you trying to kick these guys out? These guys did nothing at all this game, they were just chilling.'"
So instead of kicking them out, the securities told them to calm down and also told the same to Ray Nicholson and his buddies. So that was a big W for xQc and Buddha.
Same goes for Ray Nicholson, dude seems pretty chill to say the least (besides the sh*ttalking maybe).
With the lines of online content creators and actors blurring more and more, maybe we will see more movies produced by YouTubers, streamers and more:
This article contains affiliate links which are marked with [shopping symbol]. These links can provide a small commission for us under certain conditions. This never affects the products price for you.