Pelé was one of the best and most influential footballers of all time! To honor his life's work, EA Sports has just released a very special SBC in FIFA 23 – it's one of the best challenges in Ultimate Team this year! Here's what you get out of it and why you should definitely complete the SBC.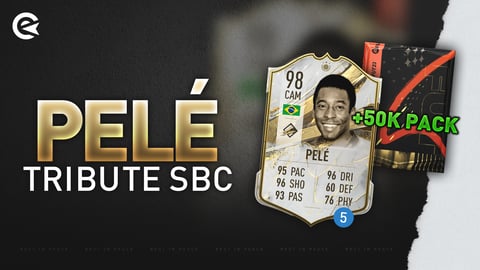 The new "O Rei Pelé" SBC in FIFA 23 Ultimate Team is one of the best things to be released this year – in terms of value at least! For just a few coins, you get a Prime Icon Pelé loan player item for 5 games and – on top of that – a 50k pack. Pelé always is one of the most dangerous strikers as well as one of the best midfielders in Ultimate Team and could elevate your game to the next level.
FYI: Use Pelé in Weekend League games and once you have only one game left use him exclusively in the FUT Friendlies mode. Win-Win: His remaining contract doesn't expire, and you can use him to complete challenges that unlock you other amazing special cards.

FIFA 23 Pelé SBC – Loan Player & 50K Pack

This SBC requires you to exchange an 82-rated squad – which costs about 7K coins right now. Many players most likely don't have to pay a damn thing as they've already got all the players they need in their club. Yep, that's right: A 50K pack and Prime Icon Pelé (5 games) for free! That's insane value!

Pelé – Prime Icon Stats, Weak Foot & Skills
Let's take a closer looks at one of the GOATs... we all know he's a legend, but what about his FIFA 23 in-game stats?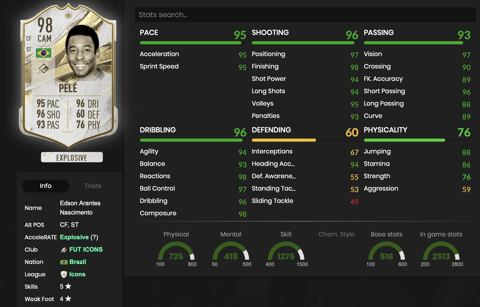 WOW! Talk about an OP card... the Brazilian combines 5-star skills with 95 pace, 98 dribbling, 96 shooting and 93 passing. There's literally nothing he can't do, except maybe defend – obviously, he doesn't need that. So, what are you waiting for? Grab him and have some fun!
If you're not sure which tactics and formations fit Pelé the best, you should check out our detailed guide about this topic.