The Team of the Year is by far the most important FIFA promo. No promo cards will get anywhere near as good a rating in the next few months. We prepare you for the FIFA 23 TOTY.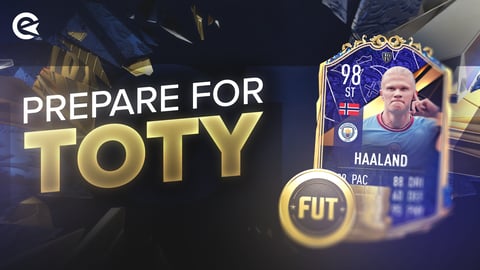 The FIFA 23 Team of the Year (TOTY) is getting closer and closer. In this article we will give you tips and tricks for the perfect preparation for this mega event, because: After the TOTY release, everything is different. If you don't want to lose all your coins, you should follow one or two trading tips beforehand.

The Winter Wildcards and its (partly) outstanding SBCs will run until Friday, then the FUT Centurions will take over, for which there are already first leaks. After that it's the end of January, and at the end of January things really get going in FUT.
FIFA 23: The Perfect TOTY Preparation
If you look back at the past FIFA games, you will always notice the same pattern: Team of the Year completely changes the FUT market. Ultimate Team is turned upside down. But that just makes sense, because cards are released that have 99 OVR. This promo outdates all other cards that have been released so far. Only a few icons can still keep up, otherwise the TOTY players are ALWAYS the best players on the respective position.

Here we have linked the FIFA 22 TOTY, maybe it will bring back some memories for you.

TOTY Preparation: Collect Untrade Packs

Our first tip requires a lot of discipline, because you have to sit on really good packs for days and weeks. Even if the Winter Wildcard Team 2 has good players and the FUT Centurions will deliver superstars like Neymar, you just have to show stamina and collect untrade packs. You can open the tradeable packs, for example from the Marquee matchups, as long as they are not 50k or 100k packs. But FIFA 23 has a very strong untrade meta, and the collected packs could give you a TOTY.
You get the best packs with the World Cup and Winter Wildcard Swap Tokens. These would be the (3x) 20x 84+ player packs (you need 20 WC tokens) or the (3x) 25x 83+ player packs (20 WW tokens). Hopefully you saved the (3x) 20x 84+ player packs of WC Swap Tokens because this SBC expires on January 4th. The Winter Wildcard Swaps SBC is still available until January 13th.
TOTY Preparation: Complete Objectives

This tip goes hand in hand with collecting packs. EA has been giving us some good content lately, and you can earn a lot of packs via objectives. And you should do that too, the requirements are really not difficult. Yes, you have to grind a bit for it. But you can't make an omelette without breaking a few eggs, or whatever.
Basically, you just have to play, and in some cases you don't even have to win. You have to leave all earned objective packs, whether from the challenges or from the season pass, unopened until the TOTY. Hands off!

TOTY Preparation: Complete SBC's

Currently, SBC's are released daily, some of which also deliver good packs. On the one hand, there is the Daily Login SBC, which only costs 200 coins and, among other things, guarantees a 83x10 pack if you complete the SBC daily. Furthermore, you should of course take all the token SBCs, there are also good rewards here. However, we advise you not to complete all player SBCs.
In our Winter Wildcard SBCs article we show you which Squad Building Challenges are worthwhile and which are not. You also have to keep in mind that EA wants to empty your club with various Icon or Hero Pick SBCs. It's absolutely not worth it at all to do the Base Icon Player Pick. The chances of you drafting Pele, R9 or Eusebio are pretty slim. Keep your fodder for SBC' you know you'll get. Gamble SBC's are out!
Market Crash At TOTY Release
With the TOTY, the transfer market will crash for a while. Especially special cards from previous promos will lose value. Gold players like Kylian Mbappé or Neymar will also drop. The reason is simple: many players sell their cards to have coins for packs. Everybody wants to pack a TOTY at all costs, it doesn't get any better than that.
The more cards come on the market, the cheaper they become. But it's not just the quantity of cards that makes the price go down. If you own a Winter Wildcard João Félix, you can easily upgrade it with a TOTY. Félix is sold, demand drops, the price falls.
TOTY Preparation: Investing
Investments always come with a certain amount of risk, so don't judge us if the investments don't pan out. But listen: in TOTY time, the market will crash, and that's when you can get into investments. We will certainly get some SBCs at TOTY, so the fodder could go up. For the following cards you should not pay more than we say:

800 coins for 83s
2.8k coins for 84s
7.5k coins for 85s
12k coins for 86s
16k coins for 87s
21,5k coins for 88s
32k coins for 89s
We would stay away from 90s and 91s for now, because the risk of loss is highest here.

FUT History of CR7: All Cristiano Ronaldo Cards

View gallery
Sell Your Team Before TOTY Release
This is probably the most important tip. You should sell all your tradeable cards before the TOTY release to avoid big losses. As already written, the prices will drop heavily. Better take the safe coins with you. You can buy your team again exactly when the market is at its lowest. This way you make a profit even though you are still playing the same team.
Don't Buy FIFA-Points!
Last but not least a friendly hint not to get weak and avoid buying FIFA-Points. Never put your hard earned money into the packs that won't get you a TOTY anyway. The probability of getting a TOTY from the swap packs is much higher. So rather grind a bit, save money and (possibly) have fun at the same time.

This article contains affiliate links which are marked with [shopping symbol]. These links can provide a small commission for us under certain conditions. This never affects the products price for you.