In FIFA 22, we've got a new SBC in Ultimate Team: End of an Era Marcel Schmelzer. Is the new SBC worth it? How many coins do you need to spend? Let's take a look...
Not only does the FIFA 22 cycle come to an end, but also the club careers of many deserving players. After the Team of the Season in FIFA 22 was headlined by the Ultimate TOTS, the steady content-flow continues with some new End of an Era SBCs.
The name says it all. EA Sports celebrates players who – over many years – have left their mark on a club and who either end their career this summer or move to another club. Some of them get rewarded with a Premium SBC. We'll tell you whether Marcel Schmelzer's challenge could be worth it for you right here, right now.

Marcel Schmelzer Premium SBC Summary

The Marcel Schmelzer Premium SBC does not expire until July 12, 2022 – so in this time period, the Dortmund player can be completed easy-peasy. And everyone should think twice about getting him, because due to his upgrade, Schmelzer is one of the best left-backs in the Bundesliga...

| | |
| --- | --- |
| Position | LB |
| Nation | Germany |
| League | Bundesliga |
| Club | Borussia Dortmund |
| OVR | 93 |
| Price | 106K-111K |
| Pace | 95 |
| Shooting | 71 |
| Passing | 87 |
| Dribbling | 91 |
| Defending | 93 |
| Physicality | 92 |
The upgrades of the End of an Era cards have been simply amazing so far. Ángel di María was already great, and Lorenzo Insigne is also pretty usable in the FUT meta. Now, even fans with Bundesliga squads can be happy, as they get a new toy to play with.

The in-game stats of the former German national player are also impressive. 99 Composure is awesome – and 90 Stamina is more than enough to run up and down the wing for the entire game. Simply a W.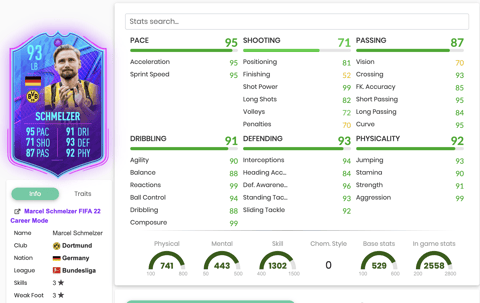 Is The Schmelzer Premium SBC In FIFA 22 Worth It?
We already hinted at it, but EA Sports is doing everything right with many of the EOAE SBCs so far. Unlike some of the Icon Moments Challenges, the prizes are pretty fair this time around, and some of the player upgrades just seem damn OP. It really is perfect for anyone who wants to improve their squad and hasn't managed to trade too many FUT Coins yet.

Pro Schmelzer Premium SBC
Con Schmelzer Premium SBC

strong & cheap
99 Composure
easy to link
Schmelzer EOAE-SBC Cheapest Solution & Rewards
What is the cheapest way to complete the Marcel Schmelzer End of an Era SBC? If we show you the cheapest solution, it means that this card has a lot to offer! But of course, even with average challenges, you should know how to get the cheapest deal. So let's take a look at the teams you have to swap for Schmelzer:
| | | |
| --- | --- | --- |
| PlayStation | Xbox | PC |
| 109K | 109K | 111K |
Marcel Schmelzer BVB SBC Cheapest Solution & Rewards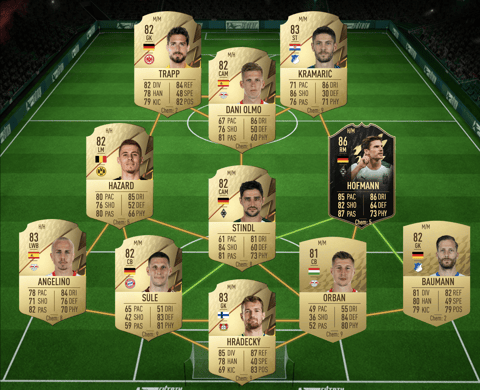 Schmelzer Team 1 SBC Requirements
Players from Borussia Dortmund: Min. 1
IF- or TOTS-Players: Min. 1
Squad Rating: Min. 83
Team Chemistry: Min. 70
Reward: Premium Mixed Players Pack
| | | |
| --- | --- | --- |
| PlayStation | Xbox | PC |
| 36,2K | 34,5K | 33,6K |
Marcel Schmelzer Bundesliga SBC Cheapest Solution & Rewards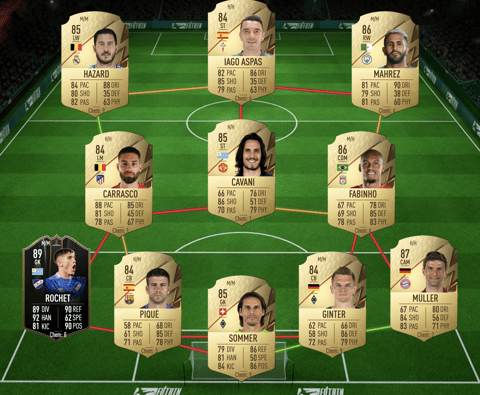 Schmelzer Team 2 SBC Requirements
Bundesliga Players: Min. 1

Squad Rating: Min. 86
Team Chemistry: Min. 50
Reward: Rare Mixed Players Pack
| | | |
| --- | --- | --- |
| PlayStation | Xbox | PC |
| 73,1K | 74,7K | 77,3K |
By completing him, you should be well-equipped on the left-back position until the end of FIFA 22. And hey, FIFA 23 is already coming around the corner...
Like to read more about FIFA? Here ya go: