EA will be forced to remove Diego Maradona from FIFA 22 after a ruling by an Argentine court. We lose one of football's greatest icons of all time. We tell you everything you need to know about the Maradona FUT removement.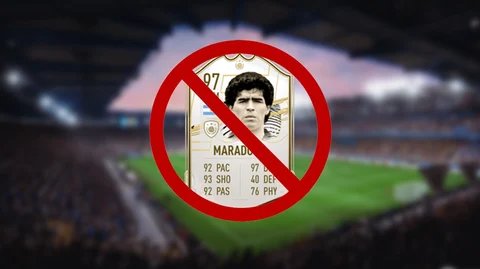 EA Sports is forced to pull the Diego Maradona Icon cards from FIFA due to a legal dispute. Maradona, one of the greatest legends of the game, has been available in a number of FIFA games, including FIFA 22.

Let's take a look at what's going on here...
FIFA 22 Will Lose Maradona Icon After Legal Dispute
This story was broken by Argentinian news website Infobae in November 2021. According to their report, there has been a trademark claim for Maradona's likeness filed by Sattvica, the company of lawyer Matías Morla. This claim was recognized by a judge in Argentina. The report goes on further to claim that EA had made a deal for Maradona's likeness with his friend and manager Stéfano Ceci... who didn't have the rights to actually sign this deal off. Yeah, pretty mad stuff...
This is exactly why EA Sports is now removing all Maradona items from FIFA Ultimate Team. He's not the only one that got removed in FIFA 22...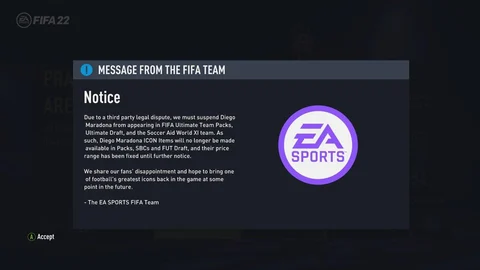 Will I Lose My Diego Maradona Icon Card in FIFA 22?
No, cards that have already been drawn or purchased will not be removed. However, he will no longer be available in packs and logically he is also out of SBCs or Drafts. And things don't look well for FIFA 23, either.
Will Diego Maradona Be In FIFA 23?
Because in the upcoming part, FIFA 23, Diego Maradona will probably not be in the game either. Sure, EA can try to resolve the legal dispute and also emphasizes that they are disappointed that he is out. But such cases can drag on for some time.

So EA can also simply look for "new legends" for their Icons. We've looked into the future...
FUT Icons – What Could Messi, Ronaldo And Others Look Like?

View gallery