Check out which new clubs and leagues will be available in FIFA 23, which will be removed and what will happen to the Russian teams. Juventus will be back in FIFA 23, the whole Serie B too – while Celtic and Rangers get face scans.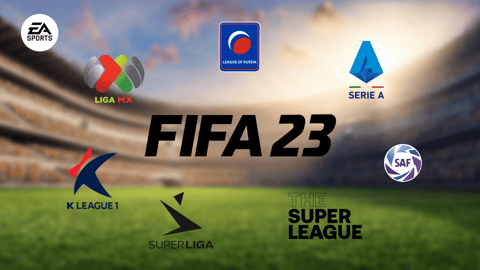 A new FIFA always brings some changes in terms of clubs and leagues. We focus on officially included leagues and clubs in FIFA 23. EA has confirmed first information about clubs in FIFA 23: Piemonte Calcio is history and Juventus is back!

But that's not the only news from Italy, Serie B also confirmed a multi-year partnership with EA Sports and will therefore be part of FIFA 23! You can find out more about this further down in the article.



Are There New Leagues In FIFA 23?
It is almost always the case that EA promotes and hypes the next FIFA with some new leagues. As a "flagship", the Canadians secured Serie B from Italy this year. The community had a few other favorites...we'll get to those at the end of the article..

Will There Be New Clubs In FIFA 23?
Even without information from EA, we could answer this question with "yes" for months already. Why? Well, in England, for example, the top four divisions are included in FIFA. So if a club is promoted from the fifth division, we're going to see it for the first time. If you then take every single league into account, you can look forward to dozens of new clubs.
An outstanding club is also a new in FIFA 23 – at least compared to FIFA 20, 21 and 22. Finally, we can play with Juve again.

Juventus Comeback In FIFA 23
Well... we've made fun of the fake name often enough. In FIFA 23, the time of Piemonte Calcio is over. Because the contract between Juventus and Konami has expired and will not be extended. EA took the chance and secured the licenses for the Italian record champions. Awesome, Juventus Turin is officially back in FIFA 23.

Juve is back in #FIFA23

The Bianconeri are officially back in the game as a part of a new partnership between @juventusfc and @easportsfifa. Narrated by Juve legend @ClaMarchisio8, this film celebrates a new chapter in the club's story of a great love. Juve per sempre sara. pic.twitter.com/LExyXe0fML

— EA SPORTS FIFA (@EASPORTSFIFA) July 25, 2022
Celtic Glasgow And Rangers FC Will Be Authentic
There is also a long-awaited upgrade in FIFA 23 for the Scottish league. Old Firm is finally becoming authentic: Some players from the two traditional clubs will receive their first face scans. The more realistic the players look, the better, so: Good news!

EA Removes Russia Entirely In FIFA 23
Different situation with Russian clubs and the national team. After a lot had already indicated that we won't see Russian clubs, players or other items in FIFA 23, EA Sports has confirmed this:

EA Sports stands in solidarity with the Ukrainian people and like so many voices across the world of football, calls for peace and an end to the invasion of Ukraine. In line with our partners at FIFA and UEFA, EA Sports will not include the Russian national team or Russian clubs in FIFA 23.
The publisher already reacted to the war in FFIA 22 and announced in a press release that Russia will be completely removed from the game (apart from items in FUT that were already in clubs).

FIFA 23 Has A Lot Of New National Teams
Thanks to the Winter World Cup in Qatar, there will be a number of new nations and national teams in FIFA 23. Croatia, for example, has already been announced; we expect all World Cup participants to be as realistic as possible in the new FIFA. Incidentally, this also applies to women, whose World Cup in Australia and New Zealand will be added in summer of 2023.
Removed Leagues And Clubs In FIFA 23
Sometimes even long-standing partner leagues and clubs disappear from a new FIFA. If a league is removed, the clubs also disappear. If they're lucky, they end up in Rest of World. If EA loses a license to Konami, the club is missing in FIFA. SSC Napoli has to take this hit in FIFA 23.
SSC Napoli Gets Fake Name – Inter Milan Stays
Like Juve before, and currently with AS Roma, SSC Lazio and Atalanta Bergamo, Napoli will also be included with a fake name.

On the other hand, there is good news for the Italian champions of 2021. Inter Milan is moving to Konami, but the club will remain authentically in FIFA 23. EA has confirmed this.

Removed Leagues: Liga BBVA MX And J-League Will Be Missing In FIFA 23

The Mexican Liga BBVA MX will not be part of FIFA 23 since developer Konami has secured an exclusive deal for it. The league moves to eFootball (PES).

Also, the Japanese J1 League is not in FIFA 23. The only stadium from the league does not appear in the list from EA, we hope that at least Vissel Kobe will be included in the Rest of World league. Otherwise, we won't see Andres Iniesta in the new FIFA.
All Clubs And Leagues In FIFA 23
In FIFA 23, we will see more than 30 leagues with over 700 clubs. EA has secured 300 clubs as licensed partners. There will be 19,000 players and there will be approximately 100 stadiums.

NATION
LEAGUE

Liga Profesional De Fútbol

Premier League
EFL Championship
EFL League One
EFL League Two

Ligue 1 Uber Eats
Ligue 2 BKT

Bundesliga
2. Bundesliga
3. Liga

Serie A TIM
Lega Serie BKT | New in FIFA 23

J1-League | Missing in FIFA 23

Liga BBVA MX | Missing in FIFA 23

SSE Airtricity Premier Division

LaLiga Santander
LaLiga Smartbank

Credit Suisse Super League

Conmebol Libertadores
Conmebol Sudamericana
The Serie A And EA Sports
Serie A and FIFA had a somewhat difficult relationship in the last couple of years – in FIFA 22, four teams of the top Italian division were not officially licensed. Atalanta Bergamo (= Bergamo Calcio), Lazio Roma (= Lazio), Juventus (= Piemonte Calcio) as well as AS Roma (= Roma FC) were included with fake names. Napoli will join, and at least Juve is back.
Most of Italy's clubs will be in the game in their true form, though. Why do we think that? Well, EA Sports announced a partnership with Serie A last year and wants to expand its influence in Italy. In addition, the Italian Supercoppa will also be renamed to EA SPORTS Supercup from the 2022/23 season onwards.

Partnership Between EA Sports And Serie B Announced
As confirmed by Lega Serie BKT, they have entered into a multi-year partnership with EA Sports. What this means is that the second Italian league will be fully licensed in FIFA 23.

You will be able to use all 20 squads when FIFA 23 finally launches on September 30, 2022. We don't really need to tell you that this is pretty exciting news. Why? Well, as luck would have it, the Venezia Football Club plays in this league. So the most amazing looking kits in world football could finally be available in FIFA. Our bodies are ready...

Vote For FIFA 23 Leagues: Take A Look, EA
If it was up to the FIFA community, we would have gotten some new leagues from EA Sports a long time ago. On the website fifplay.com, which is not officially licensed by EA, thousands of players vote for their desired leagues for the next FIFA. You can see the results of the vote there.
EA has been ignoring fan wishes for years. You really want this league in FIFA? Too bad, it ain't coming to the game. You CAN vote for your favorite leagues – but don't bet on seeing it in the new FIFA in the end.