The TOTY in FIFA 23 brings us the best cards we've seen this season. The Honorable Mentions expand the line-up. We show you how to unlock the Honorable Mentions Objectives in FUT and all players that are now available.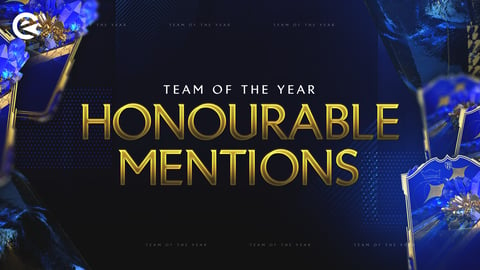 Honourable Mentions are for the players who didn't make it into the TOTY in FIFA 23, but still stood out with their performances in the football year 2022.
The good thing is that we got four of them as Objectives. That means we can get high-rated players just by playing the game. It's up to you whether they can find a spot in your squad or if you "just" use them for SBCs – but you should definitely get them. We explain everything in detail further down in this article.
But at first we list all players who made it among the Honorable Mentions. Oh, and have you seen the new TOTY Icons? Absolutely insane:
FIFA 23 TOTY: Honourable Mentions – With Vinicius Jr. And Joao Cancelo – Fofana Leaked
In addition to Argentina's World Cup hero Emiliano Martinez – who was an awesome goalie, no matter if it was in penalty shootouts or throughout the matches – Ritsu Doan from SC Freiburg and Azzedine Ounahi from SCO Angers also made it among the first released Honourable Mentions. It is fair to say that the World Cup in Qatar was a decisive factor for the mentions this year.

TOTY Honourable Mentions Release Date
The Honourable Mentions joined the TOTY stars since Friday, January 27 and are in packs until February 3.
Here all players again:
| | | | |
| --- | --- | --- | --- |
| POS. | NAME | CLUB | OVR |
| GK | Emiliano Martinez (Obj.) | Aston Villa | 90 |
| GK | Mike Maignan | AC Milan | 89 |
| LB | Alphonso Davies | Bayern Munich | 88 |
| LB | Joao Cancelo | Manchester City | 91 |
| CB | Nicolás Otamendi (Obj.) | Benfica SL | 88 |
| CB | Kalidou Koulibaly | Chelsea FC | 91 |
| CB | Bremer | Juventus | 87 |
| CM | Federico Valverde | Real Madrid | 89 |
| CM | Seko Fofana (SBC) | RC Lens | 88 |
| CM | Pedri | FC Barcelona | 90 |
| CM | Azzedine Ounahi (Obj.) | SCO Angers | 87 |
| RM | Ritsu Doan (Obj.) | SC Freiburg | 87 |
| RM | Bakayo Saka | Arsenal FC | 89 |
| CAM | Nabil Fekir | Real Betis | 88 |
| LW | Vinícius Jr. | Real Madrid | 91 |
| ST | Harry Kane | Tottenham Hotspur | 92 |
Fofana OFFICIAL STATS

Objective

SBC

Make sure to follow @FutSheriff and @Criminal__x #FIFA23 https://t.co/YhdX9aUlcW pic.twitter.com/6VPjT1Kwb7

— Fut Sheriff (@FutSheriff) January 31, 2023
FIFA 23 Honourable Mentions - Seko Fofana SBC
The final Honourable Mentions card is live. Unlike the other cards, which are only available until February 2nd or 3rd, 2023, you can still complete the new Seko Fofana until February 15, 2023.
Seko Fofana is a CM/CDM with almost Gullit Gang Member stats. The card looks really good and even has 4 Star Skills and Weak Foot. Of course, the club and the nation are not the most common. Still easily linkable via Ligue 1. Anyone who has completed the Winter Wildcards Baily SBC has a perfect link here and can be happy.
In terms of value, the card is really nice and is also very well received with an upvote of 80% on Futbin. For the SBC, three teams (83s, 84s with Inform, and 85s) worth 140,000 coins must be exchanged. Most should therefore get away very cheaply by fodder in the club. We definetly recommend the card!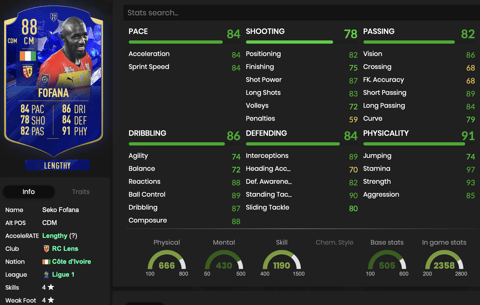 FIFA 23 Honourable Mentions Objectives: All Tasks, Rewards, And Solutions
The Year in Review objectives in FUT will be available until February 2, 2023, so make sure to complete them before they are gone!
Admittedly, things like "have 9 Argentinians in the starting XI" and "have 3 Moroccans in the starting XI" are a bit annoying because you can't do them at the same time. But actually, no one can really complain about these challenges when the players who we can get in the end are rated so well.
You can complete all tasks in Squad Battles (at least Semi-Pro difficulty) or in Rivals. Once you have completed all of them, you will get the three Honorable Mentions players.
These are all Objectives and Rewards:
NAME

TASKS

REWARDS
Glorious 15

ep. matches using a France player

Benzema TOTY Loan (3 matches)
300 XP for this season
Coin Boost: 1000 Coins for 10 matches

German Silverware

Score with an Columbia AND Nigeria player in one match

Gold Players Pack
Draft Token Pack
300 XP

Los Blancos vs. Reds

Win a match and score with a Brazil player with min. 80 Dribbling

Two 80+ Rare Gold Players Pack
300 XP

MLS Spectacel

Win a match with 3 goals from MLS players

Two 80+ Rare Gold Players Pack
300 XP

Morocco's Joruney

Play 6 matches with min. 3 Morocco players in the staring XI

Two 81+ Rare Gold Players Pack
300 XP

Japanese Triumph

Score in 3 different matches with a Japan player and concede min. & max. 1 goal

Two 81+ Rare Gold Players Pack
300 XP

La Albiceleste Legacy

Win 6 matches with min. 9 Argentina players in the starting XI

Five 80+ Rare Gold Players Pack
300 XP
Nicolás Otamendi Objective:
NAME
TASKS
REWARDS
Portugese

Score 7 goals while starting with 3 Liga NOS (Portugal) players

Goalgetter

Score 5 goals with an Argentina player

The Wall

4 Assists with players that got min. 80 Shooting

Two Rare Gold Player Pack
300 XP

Winner Mentality

Win 5 matches (as always in Squad Battles or Rivals)

Electrum Player Pack (small)
300 XP
How To Get The Honorable Mentions: Tips, Tricks And Japan Bug
As we said before, you can't complete everything at the same time.
Start in Squad Battles (on Semi-Pro) and first complete a match in which you score goals with a Colombia and a Nigeria player, three goals with a MLS player, one goal with a France player and a goal with a Brazil player (min. 80 dribbling).

Then you have already completed three tasks and reduced the 15 "France Games" to 14. If you also score with a Japanese player and concede a goal, you fulfill another task. Attention: While the description in FUT doesn't say you need to concede EXACTLY 1 goal, that's the trick for completing this task.

In addition, you should start with nine Argentines and then substitute players with the needed nations. You can also complete the Morocco task in Division Rivals. After all, you don't have to win the games, and you can substitute the three midfielders after kick-off. Attention: Only CDMs, CMs and CAMs, as well as RMs and LMs count as midfielders. Wingers won't help you!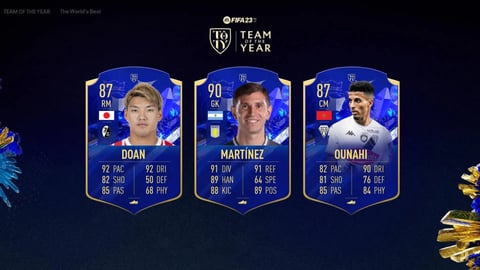 We hope we could help you!

This article contains affiliate links which are marked with [shopping symbol]. These links can provide a small commission for us under certain conditions. This never affects the products price for you.