EA will present us some changes in their next football simulation. It starts with the new name EA Sports FC – and now leaks suggest a possible major change for FIFA Ultimate Team: Traits should work more like Chemistry Styles. We explain the potential new traits system in FIFA 24.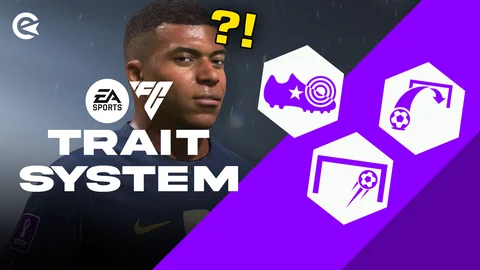 While we still have some months before we start the whole circle of FIFA Ultimate Team once again, we already got some leaks about how FUT could change in EA Sports FC. It's simply time for women in FUT – and however they will be included, we hope that it works out for the best.
And there are rumors about a new feature that just make sense. Keep in mind that the following information is only a leak and not confirmed. But FUTSheriff also announced the new chemistry system in FIFA 23 months before the release. So... what are the "traits 2.0 in FIFA 24" about?
EAFC: New Traits – Leak Indicates Chem-Style System
Let's start real quick with a simple rundown. Player traits are very important in FIFA and Ultimate Team as they decide the special abilities of every player. This year, for example, players with Trivela (outside-the-foot shot) are very OP. And if your goalie doesn't have the "Rushes Out Of Goal Trait" you might want to change him. We got the best ones right here, so don't worry:
But, focus now! We all know that traits are chosen by EA. Sometimes, they switch them up in a FUT campaign and give special traits to special players. But there is nothing we can do about them. Well... here comes the leak for the next FIFA that says: Traits in EAFC will work like applicable items – so just like contracts, position changes or chemistry styles.
Traits 2.0 EA FC in development

- Will be available on transfer market

- Specific traits such as "Team Spiriting" that gives stamina boost on all team players

- Noticeable gameplay benefits & unique animations

W?#eafc24

— Fut Sheriff (@FutSheriff) April 21, 2023
Traits 2.0 in FIFA 24: How FUT Could Change
We won't deep dive into the "unique animations" – this could be very broken in the beginning of the FUT year... let's hope for the best. However, it is quite clear that if this feature will be implemented, the gameplay will be quite different next year.
If we all can decide which players should have which traits, there will be a whole new meta going on. And if you then need to combine your chemistry to unlock team traits like "team sprinting" it will heavily affect the entire building process.
What's more important is that the FUT transfer market will change massively, as we would be able to buy and sell traits. As mentioned, there will be some traits especially significant to all of us – so trading in EAFC could get another aspect.
Trading in EAFC's FUT might become harder than Dark Souls
But we also already like the new possibilities – as long as EA includes enough variety. All of these traits (that get tested already, apparently) – sound kinda useful:
Current EA FC FUT Specific Traits in TESTING:

- Team Captain: Boosts low chem players (0 gain +1 ; 1 gain +2)

- League Star: Gives +1 Boost to all players in their league

- Lone Wolf: +2 / +3 Boost to players with no team or country-mates

- Team Spiritig: All Team players...

— Fut Sheriff (@FutSheriff) April 21, 2023
We're excited what they will come up with in the new Ultimate Team season this year. One thing is certain already: there will be new features – as every year.
This article contains affiliate links which are marked with [shopping symbol]. These links can provide a small commission for us under certain conditions. This never affects the products price for you.