Want something to do while Fortnite is down? Enter these coordinates to get sneak peeks into what's coming with Chapter 4.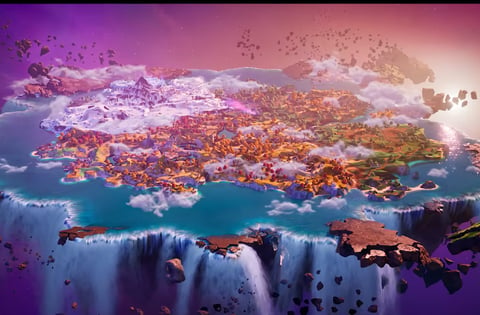 Fortnite Chapter 3 ended with a bang, or a wimp depending on who you ask, regardless, it's given us plenty of stuff to get excited about when it comes to all things coming with Chapter 4.
The most obvious ones are all the skins that are coming to the battle royale, including crossovers that will see the debut of Doom Slayer, Geralt of Rivia, MrBeast, and The Hulk!
Skins are not the only things coming to Fortnite, as plenty of new POIs, weapons, and other tools to help you achieve a Victory Royale will also help spice up the experience.
While Fortnite is down for maintenance, Epic Games has made sure players are entertained by handing out unique codes that will let them preview some of the stuff coming to the game in the coming days and weeks!
These "coordinates" can be input into a unique website for players to unlock content they'll be able to use once Chapter 4 kicks off.
All Fortnite Coordinates
To use these codes go to the Fortnite Chapter 4 website. Here are all the neighborhood have found:
New shotgun: G6K-2J-HAW
New SMG: VE4-C4-PSD
Geralt skin: 8H2-9D-8J4
New pickaxe: 2TH-EK-33P
New Bike: KNE-LB-4ME
New Chapter Four skin: 6HU-TQ-4BY
New Geno skin: 4J5-DB-S9J
Doom Slayer skin: G9D-39-323
New Chapter Four weapon: RS9-L8-835
New Chapter Four AR: U83-8M-T5M
Peely Constellation: A9D-M5-BGL
Chapter Four Battle Bus: SEL-5U-V8N
Pastel Chapter Four skin: JHP-N4-4E4
Slap Juice: 7CD-7J-8AL
Webbed pistol: REL-14-Y85
Chest and stone fragment: TSV-M6-L46
Sword gun weapon: 29M-K1-51K
New sword pickaxe: B7T-3F-J48
New white chest: C7A-U9-4UF
New Chapter Four skin: 43B-CY-N62
For more Fortnite content: