In the new Chapter 4 Season 1, a new melee weapon has been added to the game – the Shockwave Hammer. Let's take a look at what this hammer is all about and where you can find it.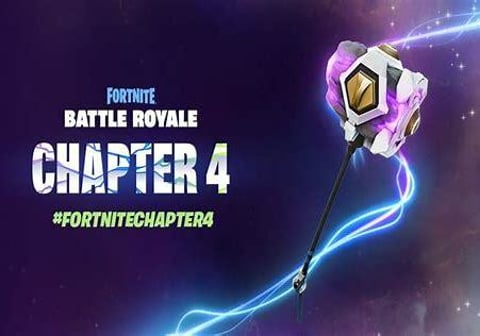 As we all know, Fortnite offers a wide range of weapons, including shotguns, snipers, and machine guns. But what about melee weapons? So far, we haven't seen much of that in Fortnite. But that will change with the new Chapter 4 Season 1. A new weapon has been introduced to the game: The Shockwave Hammer. Let's take a look at where you can find it and what it can do.
Shockwave Hammer: Where To Find It
You can find the Shockwave Hammer everywhere. Whether in chests, on the ground or from loot drops. However, keep in mind that the spawn probability is not too high, since the hammer is an epic weapon.

However, there are also chests in which the hammer is guaranteed to be contained. These are called Oathbound Chests, have a blue and white color, and a knightly decorated style. You can find them mainly west of The Citadel, in Shattered Slabs or southeast of Faulty Splits.

And believe me, it's worth the search, because the abilities of this hammer are something completely new.

Shockwave Hammer: How To Use It
The hammer has a magazine of 4 "shots", but infinite ammunition. If you attack an enemy with this weapon, you do about 75 damage. But that's not all. As the name suggests, the attack also works as a kind of shockwave grenade. Every player in the impact radius of the hammer will be blasted backwards. So, this weapon is perfect for protecting yourself from aggressive players.

The hammer has another ability that you should definitely use. By tapping the aim button, you can launch yourself into the air and thus cover a lot of distance in a short time. Since you can do this a total of four times in a row, the hammer is ideal for quick position changes.

But be careful, the hammer needs up to 15 seconds after the attacks to be ready for use again. So, keep this in mind and have other weapons ready.
That's all you need to know about this hammer. If there are any new updates about it, you can read them in this article.

For more Fortnite news about the new season, check here:
This article contains affiliate links which are marked with [shopping symbol]. These links can provide a small commission for us under certain conditions. This never affects the products price for you.