Attention Metallica & Fortnite fans: The metal hit song Master of Puppets is now in Fortnite! Here is an overview of the details.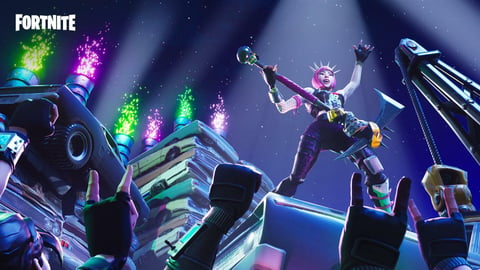 Fortnite has seen quite a few crossovers over the years, but few saw this coming: Metallica is now in the game. While there are no skins of Lars, James and the rest of the band, you can have your character play one of the boys' favorite songs: Master of Puppets.

Best of all, you can team up with up to four friends to play the song.
Fortnite Emote "Master of Puppets"
The Master of Puppets emote costs 500 V-Bucks and is available in the Fortnite item shop. The emote plays a snippet of Metallica's 1986 headbanging single, "Master of Puppets."
The first person to perform the emote is depicted as a guitarist in front of the mic, which is basically a Hetfield impersonation. Up to three other people can join in the fun, even if they didn't purchase the emote themselves, and take on drums, second guitar and bass to complete the four-piece band.
Pull some strings with the Master of Puppets Emote with music by @Metallica pic.twitter.com/DP7hCIgMDQ

— Fortnite (@FortniteGame) December 14, 2022
If you want to get this awesome emote, you should act fast. Finally, we don't know when it will next appear in Fortnite.
For more on Fortnite: