In a recent gameplay preview for the upcoming Dungeons & Dragons game "Baldur's Gate 3", it was revealed that players will be able to have sex with their companions. And even if you are playing as a Druid who has taken the form of a bear, the game will show you an erotic scene featuring your character and the companion.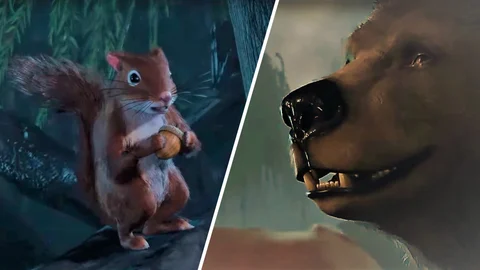 Erotic shenanigans are par for the course in Dungeons & Dragons, and so it makes perfect sense that Baldur's Gate 3 devs have included so many romancing options in the game. They want the weird and wonderful to go down. But a recent gameplay preview included an erotic scene that has divided the community.
Baldur's Gate 3 Preview Shows Human/Bear Sex Scene
The clip in question shows a human Druid in the form of a bear having sex with another human companion:
To reiterate: The bear in the scene is a human Druid who has taken the form of an animal temporarily. You won't be able to romance actual animals in Baldur's Gate 3, obviously.
Of course, there will always be a few bad apples who willfully misinterpret the situation and respond negatively:
This is the woke left's agenda

— toobapoopadoopa (@cazeyexe) July 7, 2023
But for the most part the community seem to have taken the scene in the light-hearted manner it was intended. Which would explain all the memes being spread about this story across the various DnD subreddits right now:
In light of recent news
by u/lordvbcool in BaldursGate3
As wild and absurd as this scene is, it's just a depiction of two human companions (at least mentally) having sex. And that's the kind of freedom most players will want in a DnD game.
Baldur's Gate 3 will be released on August 3 for PC and September 6 for PS5. Here is a link to Steam Giftcards if you want to buy BG3 as a present for someone else.

Let's hope we don't have to deal with this nonsense in Baldur's Gate 3:
This article contains affiliate links which are marked with [shopping symbol]. These links can provide a small commission for us under certain conditions. This never affects the products price for you.