Dragon Age day was the day that we hoped to get more info on the next Dragon Age and in a sense, we did.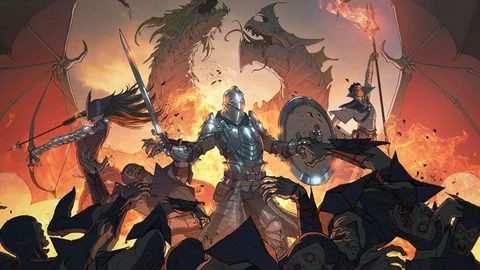 Dragon Age day is a great day for all Dragon Age fans. The internet comes together to share their favorite screenshots, cosplay's, OC's, artwork and more. If you're a BioWare fan, you'll know that Mass Effect has a similar day each year on November 7 (to go with the N7 program in the game), so that just shows you how much BioWare cares about these two franchises (no, we will not talk about Dragon Age 2, nor Mass Effect Andromeda, that's a different story).

Still, it's been awfully quiet around Dragon Age 4 in particular. Ever since the Dragon Age 4 Behind the Scenes Trailer Teaser that dropped over a year ago already, we haven't really gotten much, other than the occasional artwork teaser. BioWare has really kept this project under wraps as much as possible... only that for Dragon Age day, they dropped a very important piece of information that seems to go unnoticed by most.
Dragon Age 4 Will Be Revealed 2022
On December 4, 2021, BioWare made a blog post for Dragon Age day. New merch and a charity stream were announced but at the very bottom of their blog post, they state the following:
Speaking of building new worlds and stories for you to explore, we want to let you all know that we're still hard at work on building the next single-player-focused experience for Dragon Age. We're excited for next year when we can talk more about what we're working on. Until then, we'll leave you with two new short stories from the world of Dragon Age!
There you have it, guys. Next year. Though, I will say, that punches a hole in my "the big Dragon Age 4 trailer will be revealed at The Game Awards 2021 and then the game will release late 2022" theory.
If BioWare truly announces the game in 2022, then a release seems more likely in 2023. I said I want them to take their time, but... 2023... sad.