The Diablo 4 world boss Ashava appears at specific times in-game. We will show you when and where you can find this huge boss.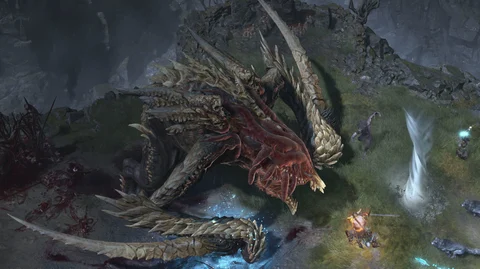 Diablo 4 has a shared world and introduces World Events to the franchise. One kind of World Event are the crazy huge and hard World Bosses. The first world boss, Ashava, can be found in Fractured Peaks and could already be challenged in the beta and the Server Slam. However, you can't just go there and slay the boss, World Bosses in Diablo 4 only spawn at specific times.

You will get notified shortly before Ashava spawns and then get 15 minutes to fight the monster's pestilence attacks, including AOE attacks and her strong forearm blades. The fight is no easy task and designed to be done by several players, even though, some crazy Diablo players already managed to solo the boss in the beta.
Diablo 4: World Boss Ashava Spawn Times
Ashava will spawn at the following times during the Diablo 4 Server Slam:

The Server Slam will start on May 12, 12 pm PDT and end on May 14, 12 pm PDT. The Ashava World Boss will first spawn on May 13, 9 am PDT and every 3 hours thereafter until the final spawn on May 14, 9 am PDT.

So you should have a lot of possibilities to kill Ashava and get your Cry of Ashava Mount Trophy, that will carry over to the full game.
Ashava World Boss Location
Ashava will always spawn in the same location and can be found in The Crucible, a small level 25+ area located in the eastern part of the Fractured Peaks.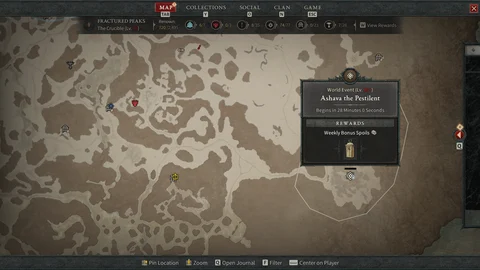 Players will get a notification on their screen 30 minutes prior to Ashava's spawn, giving you enough time to prepare and travel to the right location, cause sadly there is no waypoint nearby. Since the area is Lv. 25+ you should be prepared for a tough fight and either bring your own teammates or hope for some randoms to appear and help out. Thankfully, a ton of players will always be ready to fight Ashava, since the boss has a high chance to drop really good loot.
Now that you know everything about Ashava's spawn times and where to find her, make sure you have the best possible character build to deal with her.
This article contains affiliate links which are marked with [shopping symbol]. These links can provide a small commission for us under certain conditions. This never affects the products price for you.